B
rooklyn
was such a beautiful novel to read and watching it

made it even more amazing. The way that Saoirse Ronan portrayed Eilis Lacey will such emotion made it (1) believable and (2) absolutely heartfelt. I truly have never felt so happy to say that I am going to the movie theatre before today.
John Crowley's filmmaking offers no great flourishes, but the performances and writing are strong enough without such details that his mannered style serves the story well. Nick Hornby's adaptation of Colm Tóibín's novel is more in line with the "About a Boy" author's exemplary "An Education," notably the two films' engage in domestic conversations.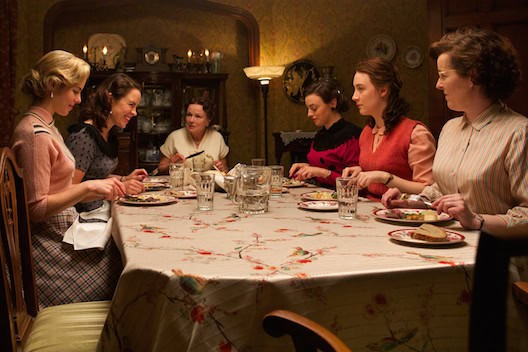 The first of these — a spot to which the filmmakers sagely return on a semi-regular basis — are amusing dining room table scenes spearheaded by boarding house operator Mrs. Kehoe (Julie Walters), who's quick to keep the gossipy Patty (Emily Bett Rickards), Diana (Eve Macklin) and Sheila (Nora-Jane Noone) in line.
The lack of camaraderie in this new abode feeds into Eilis' homesickness — the lone antidote to which is her time with Father Flood (an underused yet, as always, welcome Jim Broadbent) — but once she meets kindhearted Italian plumber Tony Fiorello (Emory Cohen), the bounce returns to her step.
Their budding romance is one of great delight and blessedly minimal drama and yields further memorable suppertime chatter when Eilis meets Tony's sizable family, among them mouthy preteen scene-stealer Frankie (James DiGiacomo). Who, by the way, is absolutely adorable.
When conflict returns to "Brooklyn," it's through contrivance-free means that bring Eilis to Ireland for a family visit and the poignant tension that sprouts before departure and organically blooms upon arrival.
Confronted with a far more appealing life than the one she left the year before, including a matrimonial prospect in form of well-matched gentleman Jim Farrell (Domhnall Gleeson), sumptuous emotional suspense abounds as loyalty to Tony and her self-made New York existence battle with the complicated ties to her homeland. In the end, this adaptation of Brooklyn has to be one of the best films of 2015.
Overall Grade:
A-
Be sure to check out my book review of Brooklyn:
http://amalialock.blogspot.ca/2015/11/brooklyn-by-colm-toibin.html