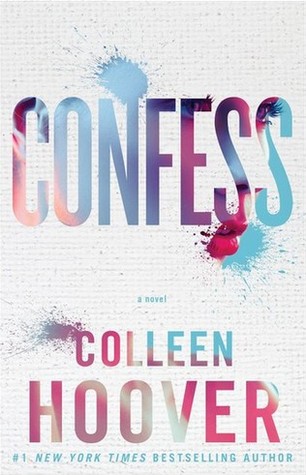 C
onfess. That is the only word that I could possibly think of to describe this novel.
"Tell me something about yourself that no one else knows. Something I can keep for myself."
Breathtakingly emotional and absolutely unputdownable, Colleen Hoover has done it again. She has created this unique masterpiece that has to be one of the best books of 2015.
The blurb drawed me in but the cover sealed the deal, I was going to buy this novel and read it. I have to say that it was one of the best decisions I have made. However, when I started to read Confess, I realized that there was more even more to this story then what meets the eye. I would just love to give a play by play but this review is spoiler free. If you want to know what this extra layer is, I would recommend that you buy Confess and experience this added layer for yourself. It is truly worth it.
The way that this novel is written left me in tears multiple times. The way that Colleen Hoover was able to write these scenes of heartache, pain, love, loss, and turmoil left me feeling each and every emotion that you could name. These emotions overwhelmed me and made me feel a profound ache by it all.
"How can a fifteen-year old girl defend her love when that love is dismissed by everyone? It's impossible to defend yourself against inexperience and age. And maybe they're right. Maybe we don't know love like an adult knows love, but we sure as hell feel it."
But, as hard as I was crying, I started laughing. Just a few pages and I was able to change emotions so fast that it left me in shock. This ultimately shows Colleen Hoover's writing ability.
Confess is about a heroine named Auburn Mason Reed who, by the age of 21, had already lost the most important thing to her in her life and was now struggling to make ends meet. When she comes across a very unusual building covered, quite literally, in scraps of paper with people's darkest and deepest confessions, she has no idea what she will find inside. What she wasn't expecting was a tall, handsome, quirky, and talented artist who basically begs her to work for him.
What Auburn didn't know was that he was keeping a secret. He knew her, remembered her, from before but couldn't let her know that. This was intriguing given that they were each falling in love with one another well keeping back huge personal secrets about themselves.
"There are people you meet that you get to know, and then there are people you meet that you already know."
One of the things that I loved about Colleen Hoover's writing was her ability to make me feel and care for her characters. The way she can make you feel empathy, sadness, pain, loss, heartache, and love alongside her characters shows the type of talent she possesses. This was not an overly steamy novel. These characters had different lives but one thing was common among them they both had to grow up and mature far beyond their years. The emotions and pure intensity of every kiss left me breathless over and over again.
"He kisses me like he's giving me every kiss he wishes he could have given me the past, and every kiss he'll wish he could give me in the future.
All at once."
In the end, Confess was a magical reading experience. The way there was three separate but interwoven storylines was such a pleasure to see and read. This story is not only just romance, it is also about survival, courage, sacrifice, confessions, fate, love, and most of all healing.
"I'm scared I'll never feel this again with anyone else," I whisper.
He squeezes my hands. "I'm scared you will."
It also featured real art in the novel itself. So if you haven't already checked it out, check it out now.
Rating:
★
★
★
★
★
Summary from Goodreads:
Auburn Reed has her entire life mapped out. Her goals are in sight and there's no room for mistakes. But when she walks into a Dallas art studio in search of a job, she doesn't expect to find a deep attraction to the enigmatic artist who works there, Owen Gentry.

For once, Auburn takes a risk and puts her heart in control, only to discover Owen is keeping major secrets from coming out. The magnitude of his past threatens to destroy everything important to Auburn, and the only way to get her life back on track is to cut Owen out of it.

The last thing Owen wants is to lose Auburn, but he can't seem to convince her that truth is sometimes as subjective as art. All he would have to do to save their relationship is confess. But in this case, the confession could be much more destructive than the actual sin…
Buy Links: