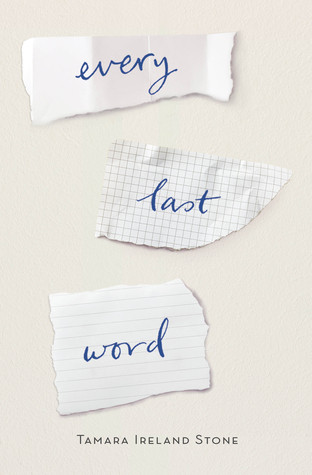 E
very Last Word
was breathtaking. I could not put the book down for one minute.
Samantha McAllister has been suffering with OCD for some time now. Feeling that her friends won't understand or worse alienating her, she hides what she is going through. That is until Sam meets Caroline. Caroline is the one to introduce Sam to Poet's Corner, a hidden room and a group of misfits that have been ignored by the school at large. It is there that Sam feels "normal"... that is until a revelation occurs that will leave Samantha questioning her sanity.
The characters were such a delight to read due to the fact that they felt so realistic.
Samantha (a.k.a. Sam) has been trying to hide her OCD for quite some time from her friends when Caroline introduces her to Poet's Corner. It is there that Sam is able to let go and be herself. It is also in Poet's Corner where Sam meets Andrew (a.k.a. AJ), the boy she and her friends tormented for years. Sam was such a dark character to get into. Right in the beginning of the novel, we start out with Sam feeling the need to use the scissors in her hand to cut her friend's hair instead of the rose, we are acknowledged that she more of an obsessive than compulsive OCD. Due to her inability to sleep she has been prescribed sleeping medication.
"Everyone's got something. Some people are just better actors than others."
Caroline and AJ were both amazingly heartfelt to read. Caroline was such a unique character to dive into. The ending of Every Last Word left me truly dumbfound by everything that happened especially between Sam and Caroline. The way that AJ found the ability to forgive someone for making his childhood a living nightmare is quite amazing. The strength that he must have had in order to do so is even more shockingly overwhelming.
"I didn't go there looking for you. I went looking for me." My voice is soft, low, and shaky. "But now, here you are, and somehow, in finding you, I think I've found myself."
The plot was well thought out and the shocking twist left me dumbfound. However, I did not think that Every Last Word captured the pure and overwhelming nature of a person living with OCD. I wished that more had been written about Sam's mental illness. Another thing that left me confused is how her mental illness would come and go much unlike people really suffering with OCD. Other than those listed above this novel was a delightful read but just not as accurate as I would have liked it to have been.
Rating:
★
★
★
★
Summary from Goodreads:
If you could read my mind, you wouldn't be smiling.
Samantha McAllister looks just like the rest of the popular girls in her junior class. But hidden beneath the straightened hair and expertly applied makeup is a secret that her friends would never understand: Sam has Purely-O
bsessional OCD and is consumed by a stream of dark thoughts and worries that she can't turn off.
Second-guessing every move, thought, and word makes daily life a struggle, and it doesn't help that her lifelong friends will turn toxic at the first sign of a wrong outfit, wrong lunch, or wrong crush. Yet Sam knows she'd be truly
crazy to leave the protection of the most popular girls in school. So when Sam meets Caroline, she has to keep her new friend with a refreshing sense of humor and no style a secret, right up there with Sam's weekly visits to her psychiatrist.
Caroline introduces Sam to Poet's Corner, a hidden room and a tight-knit group of misfits who have been ignored by the school at large. Sam is drawn to them immediately, especially a guitar-playing guy with a talent for verse, and starts to discover a whole new side of herself. Slowly, she begins to feel more "normal" than she ever has as part of the popular crowd . . . until she finds a new reason to question her sanity and all she holds dear.
About The Author:
TAMARA IRELAND STONE is the author of the New York Times bestseller, EVERY LAST WORD, a story about a teen with OCD who discovers a secret poetry club that changes her life in unexpected ways.
Stone is also the author of TIME BETWEEN US, which has been published in over twenty countries, and its companion novel, TIME AFTER TIME. The series follows a teen time traveler from present day and a girl in 1995 he can't seem to leave in his past.
A former Silicon Valley marketing executive, Stone enjoys skiing, traveling, and going to concerts. She lives in the San Francisco Bay Area with her husband and two children.
Listen to playlists and learn more about her books at
www.tamarairelandstone.com
.