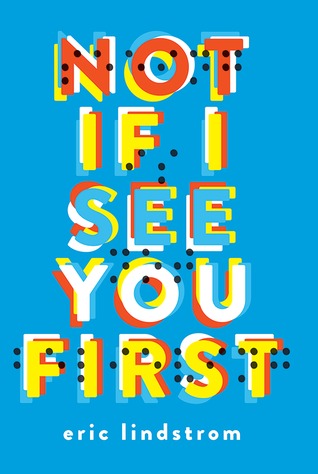 N
ot If I See You First is about a young high school student named Parker Grant. Parker is blind thanks to a car accident that not only left her without sight but was the cause of her mother's death. After recently losing her father, her aunt and cousins moving in, dealing with new and old flames, and the fact that she is now facing issues with her friends has not only caused her to withdraw but also accept the fact that things aren't always black or white, there is an in-between and sometimes it will truly leave you breathless.
Parker was an interesting character to read. At times she may seem sweet, kind, and adorable but then you see the other side of Parker. This side of her is rather sarcastic, blunt, rude, and at times bitchy. To me, Parker seemed rather realistic and, in a way, human which ended up making me like her even more. Parker Grant is a character that is both frustratingly mean yet amazingly awesome. She would have been the girl that everyone would have befriended.
All of the other characters in this novel were such a delight to read. Sarah (Parker's best friend), Faith (Parker's "enemend"), Scott (yummy), Stockley (surprising treat), Molly (sweet), and of course Jason (don't even get me started). Even people she is not friends with all treat with respect. Well, except for a few outsiders.
The romance and issues discussed in this novel also seem rather realistic and profoundly good. Not If I See You First discusses divorce, death, suicide, bullying, trust issues, insecurity, abandonment, superficiality, amazing friends that will have your back, and being blind. Eric Lindstrom discussed these topics rather well and made me feel at least a portion of what Parker was feeling. The relationships also discussed within this novel (Sarah and Ricky, Parker and Jason, Parker and Scott) was written so well and truly expresses the nature of love and forgiveness.
The author, Eric Lindstrom, really did a fantastic job telling a story in the perspective of someone blind. Despite being blind, the main character is an amazing runner. There is also the accident that her mother caused that resulted in the main characters loss of sight and unknown truth to how her father die. With all this combined I felt that Not If I See You First had to be one of the deepest, most inspirational, heartbreakingly realistic novels that I have ever read (including Before I Fall, If I Stay, and The Fault In Our Stars).
Rating:
★
★
★
★
★
Summary from Goodreads:
The Rules:

Don't deceive me. Ever. Especially using my blindness. Especially in public.

Don't help me unless I ask. Otherwise you're just getting in my way or bothering me.

Don't be weird. Seriously, other than having my eyes closed all the time, I'm just like you only smarter.

Parker Grant doesn't need 20/20 vision to see right through you. That's why she created the Rules: Don't treat her any differently just because she's blind, and never take advantage. There will be no second chances. Just ask Scott Kilpatrick, the boy who broke her heart.

When Scott suddenly reappears in her life after being gone for years, Parker knows there's only one way to react-shun him so hard it hurts. She has enough on her mind already, like trying out for the track team (that's right, her eyes don't work but her legs still do), doling out tough-love advice to her painfully naive classmates, and giving herself gold stars for every day she hasn't cried since her dad's death three months ago. But avoiding her past quickly proves impossible, and the more Parker learns about what really happened--both with Scott, and her dad--the more she starts to question if things are always as they seem. Maybe, just maybe, some Rules are meant to be broken.
About The Author:
In addition to writing Young Adult novels, Eric Lindstrom has worked in the interactive entertainment industry for years as a creative director, game designer, writer, and usually combinations of all three. As Editor and Co-Writer for
Tomb Raider: Legend
he received a 2006 BAFTA nomination for Best Video Game Screenplay, and then as the Creative Director for
Tomb Raider: Underworld
he received a 2009 BAFTA nomination for Best Action Adventure Video Game and a 2009 WGA nomination for Best Writing in a Video Game.
He has also raised children, which led to becoming first a school volunteer, then a substitute teacher, then a part time kindergarten teacher, then getting a credential to teach elementary school, and most importantly the discovery that YA literature is awesome. It's pretty much all he ever reads, and now writes, in his house near the beach on the west coast, with his wife and, yes, cats.