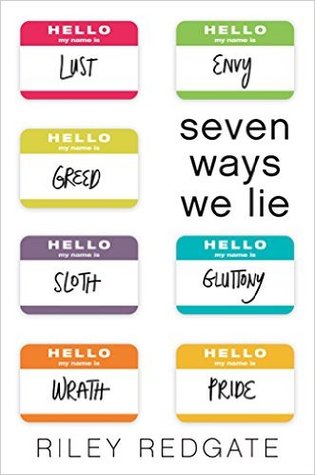 S
even Ways We Lie
is not necessarily a novel I would read again.
I am going to be upfront with you all, there is literally 7 POVs within this novel. Even though there was 7 different POVs they all sounded rather the same. The only way I was able to tell which character I was currently reading about was ultimately the situations that were occurring for that one character.
The plot, summary, and cover lured me into this novel but ended up not being enough to entertain me. Another issue would have to be the build up, or in this case the lack of one. In the end, I felt that this novel had a lot of potential.
Rating:
★
★
Summary from Goodreads:
Paloma High School is ordinary by anyone's standards. It's got the same cliques, the same prejudices, the same suspect cafeteria food. And like every high school, every student has something to hide—whether it's Kat, the thespian who conceals her trust issues onstage; or Valentine, the neurotic genius who's planted the seed of a school scandal.
When that scandal bubbles over, and rumors of a teacher-student affair surface, everyone starts hunting for someone to blame. For the unlikely allies at the heart of it all, the collision of their seven ordinary-seeming lives results in extraordinary change.
Special Thanks:
ARC was kindly
provided by publisher, Amulet Books, via Netgalley in exchange for an honest review. Thank you.
About The Author:
Hey, hi. Riley here. I am a(n):
—YA novelist
—Shark enthusiast
—Economics major at Kenyon
—ECON IS FUN I PROMISE
—Okay
—Also a classical pianist & singer-songwriter
—I am a human person comprised primarily of soft tissue, and by golly, I hazard a guess you are, too. we have so much in common.
—So look, when I was like 15, someone messaged me on fanfiction dot net telling me that the "sheer amount of stupid" on my profile guaranteed that they would never read my work
—Clearly, I have not learned my lesson
—I hope you're having a really good day!
—Bye!