T
here are many k-dramas coming out this year (yeah!) but which ones are the best and which ones should you invest your time in watching? Well, I am here to help.
Below is a list that will help anyone figure out which k-drama they would like to watch (but most importantly which one they will enjoy the most).
1.
Descendants of the Sun
Shin-Jin (Song Joong-Ki) is the captain of the special forces. He catches a motorcycle thief with Sergeant Major Dae-Young (Jin Goo). The theif is injured during his capture and is sent to the hospital. Dae-Young realizes his cellphone was stolen by the their and goes to the hospital to retrieve his cellphone.
In the emergency room, Shi-Jin meets Dr. Mo-Yeon (Song Hye-Kyo) for the first time. He falls in love with her immediately. Mo-Yeon mistakenly assumes Shi-Jin is part of the thief's criminal gang. He proves to her that he is a soldier with the help of army doctor Myeong-Joo (Kim Ji-Won).
Shi-Jin and Mo-Yeon begin to date, but due to their jobs their dates don't go well. Hi-Jin takes an order to lead his soldiers on a peacekeeping mission to the country of Uruk. Meanwhile, Mo-Yeon becomes upset that she fails to become a professor due to a colleague's privileged background. While Shi-Jin and Mo-Yeon meet again, they talk views on life and relies how different they are. Shin-Jin, as a soldier, kills to protect lives and Mo-Yeon, as a doctor, tries to save all lives. They say their goodbyes.
Eight months later, Mo-Yeon rebuffs the sexual advances of hospital chairman Suk-Won (Tae In-Ho) and as retribution is assigned to lead a medical team in Uruk. There, Shi-Jin and Mo-Yeon meet again.
Broadcast:
February 24 - April 14 2016
2.
Please Come Back, Mister
A man is worked to death, but he comes back to the living world in the attractive body of another man for a limited amount of time.
Lee Have-Joon (Rain) is a perfect man with good looking appearance. He works as a section chief in the women's apparel section at a department store. His body is actually possessed by the spirit of Kim Young-Soo (Kim In-Kwon) who was worked to death.
Hong Nan (Oh Yeon-Seo) is a beautiful woman, but her spirit is possessed by a tough guy (Kim Su-Ro).
Shin Da-Hye (Lee Min-Jung) is a beautiful housewife, but her husband suddenly dies. She falls into a love triangle with Lee Hae-Joon and a promising store employee (Yoon Park).
Broadcast:
February 24 - April 14 2016
3.
Page Turner
Yoo-Seul (Kim So-Hyun) is a student of an art high school. She is a talented pianist and who won various contests, but she is driven by her mother. Yoo-Seul's mother wanted to become a pianist when she was younger. One day Yoo-Seul has an accident. Yoo-Seul may never play piano again because of the accident. With the help of her friend Cha-Sik (Ji Soo) and Yoo-Seul's rival Jin-Mok (Shin Jae-Ha), Yoo-Seul begins to live a new life.
Broadcast:
March 26 - April 9 2016
4.
Madame Antoine
Ho Hye-Rim (Han Ye-Seul) is a famous fortune-teller. She is known as "Madame Antoine"and insists that she is spiritually connected to Marie Antoniette, but that part is a lie. She is able to see through people's stories due to her intelligence and keen sense. She dreams of having love in a romantic film.
Ko Tye-Rim then takes part in a psychological test project conducted by psychotherapist Choi Soo-Hyun (Sung Joon). His goal is to prove that true love does not exist. Coincidentally, the name for his psychological treatment centre is Madame Antoine.
Broadcast:
January 22 - March 12 2016
5. Cheese in the Trap
The drama depicts the delicate relationship between female university student Hong Seol (Kim Go-Eun) and her senior Yoo Jung (Park Hae-Jin). Hong-Seol works part-time due to her family's poor background. Yoo Jung is good looking, gets good grades, athletic and has a kind of personality, but he has a dark side.
Broadcast:
January 4 - March 1 2016
6.
Goodbye Mr.Black
Cha Ji-Won (Lee Jin-Wook) is a UDT officer of the Navy Special Operations Force. He is positive and has personal charm, but falls into a desperate situations due to a friend's betrayal. He goes through numerous life or death situations. Cha Ji-Won then enters into a fake marriage with Swan (Moon Chae-Won) to hide his identity. Through the bright persona of Swan, Cha Ji-Won falls in love and regains trust of others.
Broadcast:
March 16 - May 5 2016
7.
Moorim School
The Moorim School isn't focused solely on high academic scores. The school teaches its student virtues including honesty, faith, sacrifice and communication. The teachers and students at the school come from different countries and each have their own stories.
Broadcast:
January 11 - March 8 2016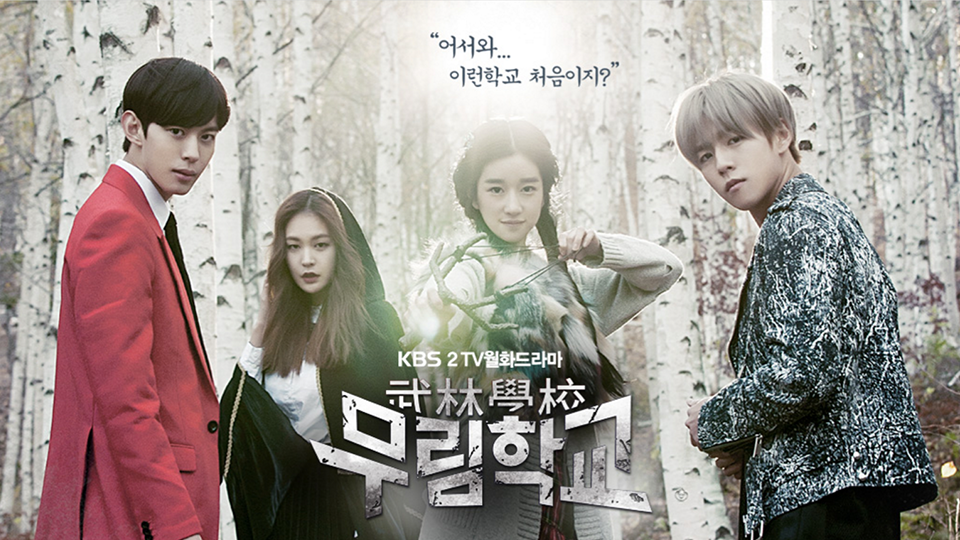 8.
Uncontrollably Fond
When Shin Joon-Young (Kim Woo-Bin) and No Eul (Bae Suzy) were children, they were separated and became heartbroken.
As adults they meet again. Shin Joon-Young is now a top actor and singer. He is intelligent and attractive. No Eul is the PD of documentaries. She values money over justice and kisses up to those with more power than her.
Broadcast:
July 6 -- 2016
9.
One More Happy Ending
Han Mi-Mo (Jang Na-Ra), Baek Da-Jung (You Da-In), Go Dong-Mi (Yoo In-Na) and Hong Ae-Ran (Seo In-Young) were once members of idol group "Angels".
Han Mi-Mo now works as a rep for remarriage consulting business. She is also divorced. Her former bandmate Baek Da-Jung is also a rep at the same company. She married a rich man, but her marriage is on the rocks. Go Dong-Mi is now an elementary school teacher. She is single and feeling lonely. Hong Ae-Ran is a representative for an internet shopping mall. The women are still friends.
Song Soo-Hyuk (Jung Kyoung-Ho) is a reporter and a single father. He has a friend, Goo Hae-Joon (Kwon Yool), who is a doctor and single. Song Soo-Hyuk and Goo Hae-Joon become involved with the women.
Broadcast:
January 20 - March 10 2016
10.
Lucky Romance
Bo-Nui (Hwang Jung-Eum) believes in fortune-telling. One day, she hears from a fortune teller that if she does no sleep with a male virgin born in 1986, the year of the tiger, she will die. Afterwards, she seeks out someone that matches those criteria. She then meets Soo-Ho (Ryoo Joon-Yeol) who owns her studio building. Soo-Ho tries to kick her out, because she has not paid her rent. They struggle with each other. Bo-Nui then learns that he matches the conditions set forth by the fortune-teller. Meanwhile, Soo-Ho is a cheap person who will not believe in sex before marriage.
Broadcast:
May 11 - June 30 2016