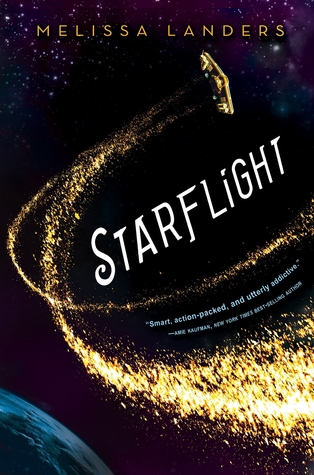 S
tarflight
is the first novel in the Starflight Series.
Starflight is about a girl named Solara Brooks who is hungry for a life that exists in the outer realm (lawless, dirty, and hard existence). After just being released from the orphanage in which she lived in, Solara wants to begin a life where no one will care about the engine grease beneath her nails or her felon tattoos, she is desperate to find a place in which she fits in. Doran Spaulding, the rich and snobby quarterback who made her life hell in high school, is offering Solara passage aboard the space liner Zenith in exchange for her basically becoming his "maid" for the next five months.
However, when this begin to blur and they both end up on the Banshee, Doran learns of his terrible fate and how he has been framed on Earth for a conspiracy he never committed. As he pursues mysterious coordinates given to him by his father, he and Solara must get past their hatred for one another and work together to evade those out for their arrest....and more. As both Solara and Doran are forced to question everything they believed in, they realize that the ship has become their home and the eccentric crew has become their family. But when Planet X, the mysterious coordinates, are located they discover that the planet not only has the power to alter their lives but the existence of everyone in the universe.
Where do I even begin? Starflight is action paced, at times left me sitting on the edge of my seat, and filled with sic-fi, plus an additional sprinkle of romance. I adore science fiction, so when I got my hands on this novel I literally began to jump up and down.
Starflight is written in third person but focuses on both Solara's and Doran's POV. I am not really a fan of third person but Melissa Landers truly wrote the novel so spectacularly that I could not help but enjoy the third person perspective. I also enjoyed the fact that both characters changed throughout the course of the novel and grew in such a way that left me feeling excited for book two, Starfall.
In the beginning Solara was poor, smart, clever, and a hard worker that is technically a criminal. Even though her story, and life, is rather heartbreaking she continues moving on and looking forward. Doran is the opposite. He was a jerk, spoiled, rich, entitled, and just a plain old jackass. But as he and Solara begin to run for their lives he begins to change. I liked the transition that both characters faced, but I have to say that Doran seemed to have changed the most. He ends up fighting not only for himself but for the crew and Solara's trust.
The crew were amazingly delightful to read. The captain, Renny (the first mate and master pickpocket), Cassia and Kane (the ship hands) and of course little Acorn. At times it was hilarious to read some scenes involving the crew, especially when it involved Cassia and Kane bickering or fighting (which is almost in every scene). Let's not forget about the romance. I adore that this novel had the hate-to-love type of romance because to me I consider that real. I especially enjoyed finding out the reason why they both seemed to hate one another and why that ultimately changed. It was a fun and amazing read and I can not wait to get my hands on book two.
If you enjoy YA, sic-fi, romance, action-filled, fantasy novels then you should definitely check this novel out.
Rating:
★
★
★
★
Summary from Goodreads:
Life in the outer realm is a lawless, dirty, hard existence, and Solara Brooks is hungry for it. Just out of the orphanage, she needs a fresh start in a place where nobody cares about the engine grease beneath her fingernails or the felony tattoos across her knuckles. She's so desperate to reach the realm that she's willing to indenture herself to Doran Spaulding, the rich and popular quarterback who made her life miserable all through high school, in exchange for passage aboard the spaceliner Zenith.
When a twist of fate lands them instead on the Banshee, a vessel of dubious repute, Doran learns he's been framed on Earth for conspiracy. As he pursues a set of mysterious coordinates rumored to hold the key to clearing his name, he and Solara must get past their enmity to work together and evade those out for their arrest. Life on the Banshee may be tumultuous, but as Solara and Doran are forced to question everything they once believed about their world—and each other—the ship becomes home, and the eccentric crew family. But what Solara and Doran discover on the mysterious Planet X has the power to not only alter their lives, but the existence of everyone in the universe...
About The Author:
**Receive news, updates, and exclusive excerpts from Melissa by
subscribing to her e-newsletter!
**
Melissa Landers writes romantic sci-fi for teens and the young at heart. ALIENATED and INVADED are now available from Disney Hyperion, and UNITED, the third book in the trilogy, will release in August, 2016. The first novel in her new series, STARFLIGHT, launches February 2, 2016.