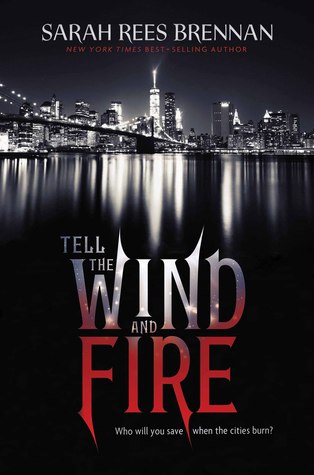 T
ell the Wind and Fire
is a standalone YA fantasy novel.
Tell the Wind and Fire is basically like a retelling of A Tale of Two Cities by Charles Dickens. This is the best way to describe the novel without spoiling anything.
I am severely disappointed by this novel, not quiet sure if it is due to the fact that I had such high expectations (thanks to the summary) or because it just seemed like an amazing novel to read. But when I started reading it, I would often find myself drifting (not reading the novel and staring into space). I am going to come out and just say it...it was boring. I felt no drive whatsoever to read the novel, let alone finish it, but I continued on because I felt like maybe this novel would have a sudden twist or turn or something to make me feel like it was becoming the novel that I so wished it was.
Don't get me wrong, Sarah Rees Brennan was the best thing about Tell the Wind and Fire. It was what kept me reading when I felt like saying "screw it, screw it all". Sarah Rees Brennan's writing is also the reason why I am giving this novel a two star rating, I would have given it a one star. Besides that, there was nothing that would have kept me continuing the novel.
Rating:
★
★
Summary from Goodreads:
In a city divided between opulent luxury in the Light and fierce privations in the Dark, a determined young woman survives by guarding her secrets.

Lucie Manette was born in the Dark half of the city, but careful manipulations won her a home in the Light, celebrity status, and a rich, loving boyfriend. Now she just wants to keep her head down, but her boyfriend has a dark secret of his own—one involving an apparent stranger who is destitute and despised. Lucie alone knows the young men's deadly connection, and even as the knowledge leads her to make a grave mistake, she can trust no one with the truth.

Blood and secrets alike spill out when revolution erupts. With both halves of the city burning, and mercy nowhere to be found, can Lucie save either boy—or herself?
Special Thanks:
ARC was kindly
provided by publisher, Clarion Books, via Netgalley in exchange for an honest review. Thank you.
About The Author:
Sarah Rees Brennan is Irish and currently lives in Dublin. For a short stint, she lived in New York and became involved with a wide circle of writers who encouraged and supported her, including Holly Black and Cassandra Clare. She has developed a wide audience through her popular blog, mistful.livejournal.com, where she writes movie parodies, book reviews and some stories.