W
asted
(Bad Boy Mafia Romance)
is the first novel in the Dirty Boys of Chicago Series.
Wasted is about a man named Xavier, who's father runs the mafia his family is in, and a woman named Farrah, who's mother is the accountant for said mafia. One day, well she is doing her job she is gunned down and killed. Xavier has always held a torch for Farrah but after the death of her mother Farah disappears.
Even though four years have passed, Xavier has never once forgotten about Farrah and is determined to get her back. With some help, he manages to find Farah but when they are face-to-face after four years he doesn't exactly get the welcome he was expecting. But what does he expect when Farrah believes that he had something to do in the death of her mother.
I must be going through a funk right now because what is happening to all the hunky, possessive, bad-boy, alpha male, fictional, romance novels? I didn't feel any chemistry whatsoever between Farrah and Xavier. The story, to me, fell flat. I wanted more dialogue, more emotion, more of a build (i.e. in character, plot, and novel). At times I sat staring at my computer wondering "what have I been reading?". One thing I truly enjoyed throughout the novel had to be Xavier. He did exemplify the true alpha male character and was just great!
My overall thought would have to be that this novel truly had potential but it just sadly didn't seem to work out that well.
Rating:
★
★
Summary from Goodreads:
I wanted to kill that bastard.
Xavier Santini ripped my family apart. Now it was my turn for revenge.
I'd do whatever it takes to avenge the family name.
I'd even pretend to fall in love with him.
But then he looked at me, with those dark gray eyes.
I was hooked.
The family will kill me for what I've done.
I fell in love with a murderer.
I've wanted her since the moment I met her.
But it's been ten years.
I've been in prison.
Locked away from the one woman I couldn't have.
I'd kill again to keep her safe.
To make her mine.
Wasted is a FULL LENGTH, Standalone with NO CLIFFHANGER and a HEA.
For a limited time, it also includes a bonus novel, Uncovered.
Special Thanks:
ARC was kindly
provided by publisher, Mark My Words Book Publicity, via Netgalley in exchange for an honest review. Thank you.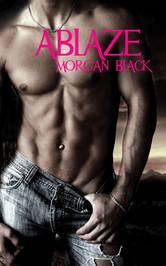 About The Author:
Morgan Black is a hair stylist by day and hottie writer by night. She walks her dogs in high heels and never leaves the house without red lipstick. She firmly believes in the power of Zen, and does Yoga freely in her backyard, in her favorite set of pumps.
Morgan Black also writes hot vampire erom under M. Black.