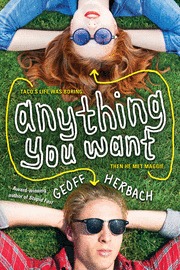 A
nything You Want
is a contemporary YA standalone.
Anything You Want mainly revolves around Taco getting Maggie, his girlfriend, pregnant. I don't know what to say...
Taco is such a weird character to read. He was clueless throughout the majority of the novel and let me feeling that his mindset was definitely younger than his real age. He, nor Maggie, did not consider putting on a condom or even getting on birth control (really, anything would have done the trick people). This let me feeling even more withdrawn from the novel.
Then Taco is suddenly "excited" (*eye roll*) about the fact that Maggie is pregnant. He didn't seem to grasp that babies cost money, lots of money. Formula, diapers, education, clothing, ext.
I just never found myself getting into the novel. It felt both ridiculous (specifically Taco's POV) and disappointing. Even now as I write this review, I do not believe I will pick this novel up again. Ever.
Rating:
★
Summary from Goodreads:
Expect a bundle of joy—er, trouble—in this hilarious, heartwarming story from the award-winning author of Stupid Fast Geoff Herbach

Taco's mom always said, "Today is the best day of your life, and tomorrow will be even better." That was hard to believe the day she died of cancer and when Taco's dad had to move up north for work, but he sure did believe it when Maggie Corrigan agreed to go with him to junior prom. Taco loves Maggie- even more than the tacos that earned him his nickname. And she loves him right back.

Except all that love? It gets Maggie pregnant. Everyone else may be freaking out, but Taco can't wait to have a real family again. He just has to figure out what it means to be a dad and how to pass calculus. And then there's getting Maggie's parents to like him. Because it would be so much easier for them to be together if he didn't have to climb the side of the Corrigans' house to see her...
Special Thanks:
ARC was kindly
provided by publisher, Sourcebooks Fire, via Netgalley in exchange for an honest review. Thank you.
About The Author:
Geoff Herbach is the author of the award winning Stupid Fast YA series as well as Fat Boy vs the Cheerleaders. His books have been given the 2011 Cybils Award for best YA novel, the Minnesota Book Award, selected for the Junior Library Guild, listed among the year's best by the American Library Association, the American Booksellers Association and many state library associations. In the past, he wrote the literary novel, The Miracle Letters of T. Rimberg, produced radio comedy shows and toured rock clubs telling weird stories. Geoff teaches creative writing at Minnesota State, Mankato. He lives in a log cabin with a tall wife.