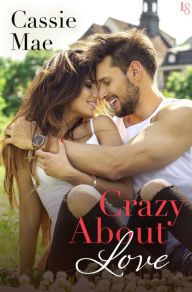 C
razy About Love
is the third book in the All About Love series. It can also be read as a standalone.
Crazy About Love revolves around Theresa Jones and Alec Tucker's story. Having pined for Theresa for years, Alec has finally settled for being only her friend. No matter what, he is still there for her whenever she needs him. So when Theresa is in need of a man for her Valentine's Day auction, he is ready to step in.
When Theresa finally realizes her feelings for Alec and plans on making a move things don't go exactly as planned. Before she even has a chance, someone else steals him away for the night.
The story was not only told through jumps from the present and flashbacks from the past but also in alternating POV's. The first half of the novel being Alec's story and the second half Theresa's story. I was not a fan of this. Some of the parts of Alec's POV were repeated in Theresa's POV, which left me feeling as if I was reading the exact same thing but in someone lesses head. I felt that the alternating POV's didn't do anything but bore me and make me loose any sense of connection I was beginning to feel.
The premise and plot of the story was actually intriguing but the fact that I was reading in the present for one chapter and reading a flashback in the next throughout the entire book just threw me off. I just wanted to focus on what was currently going on present day instead of the reoccurring flashbacks. The novel really did have potential but I just didn't, and couldn't, get into the jumps from present day to flashback.
Expected Publication:
June 14 2016
Rating:
★
★
Summary from Goodreads:
Single again on Valentine's Day, struggling actor Alec Tucker agrees to help out his longtime friend—and unrequited love—Theresa Jones by filling in as one of the bachelors for her company's charity auction. Alec figures it couldn't hurt to meet someone new. Still, working with Theresa reminds him of all the reasons he never got over her. So it feels a little bittersweet when, out of nowhere, a beautiful young street artist buys a date with him for a whopping four grand.

Little does he know, Theresa's had a major change of heart. She's crushed when someone else wins a date with Alec—but she isn't going down without a fight. After a pep talk from her best friend, Theresa makes a desperate move that goes against her better judgment . . . and things only get crazier from there. But with Alec ready to move on and Theresa afraid she's pushed him away for good, maybe a little crazy is exactly what they need—before they both miss their shot.
Special Thanks:
ARC was kindly
provided by publisher, Random House Press - Loveswept, via netgalley in exchange for an honest review. Thank you.
About The Author:
Cassie Mae is the author of a few hundred… okay, maybe not that many… books. Some of which became popular for their quirky titles, characters, and stories. She likes writing about nerds, geeks, the awkward, the fluffy, the short, the shy, the loud, the fun.
Since publishing her bestselling debut, Reasons I Fell for the Funny Fat Friend, she has published and sold books to Random House, Swoon Romance, and is the founder of CookieLynn Publishing Services. She is represented by Sharon Pelletier at Dystel and Goderich Literary Management. She has a favorite of all her book babies, but no, she won't tell you what it is. (Mainly because it changes depending on the day.)
Along with writing, Cassie likes to binge watch Once Upon A Time and The Flash. She can quote Harry Potter lines quick as a whip. And she likes kissing her hubby, but only if his facial hair is trimmed. She also likes cheesecake to a very obsessive degree.
You can stalk, talk, or send pictures of Luke Bryan to her on her Facebook page:
https://www.facebook.com/cassiemaeauthor