H
ealthy Speedy Suppers
is a cookbook that will both save you time and also have such awesome and delicious recipes.
Healthy Speedy Suppers is full of simple meals that are both easy to make and delicious to eat. Seriously I will adore this cookbook. However, there are a few negatives. The recipes within the cookbook are not exactly 100% healthy (i.e. the use of white rice instead of brown, etc.). If you are concerned with calories then this cookbook is not for you.
I would definitely recommend this novel to those that don't really care about calories and those that are willing to adapt some recipes.
Expected Publication:
May 17 2016
Rating:
★
★
★
Summary from Goodreads:
Bursting with quick, simple and deliciously healthy recipes,
Healthy Speedy Suppers
will inspire anyone who feels too tired or busy to cook at the end of the day. Katriona MacGregor started her Speedy Weeknight Suppers column for
The Telegraph
online in 2013, after a move back to exhausting London office life caused a slump in her diet. Resolving to break away from eating ready meals and cheese on toast every night, she began developing recipes that took no more than 40 minutes to make, were packed with good quality, wholesome ingredients, and tasted fantastic.
The recipes are fresh, seasonal and nutritious and showcase a broad range of influences from around the world. Ingredient lists are short, prep is kept to a minimum and the methods are relaxed - often featuring one-pot or one-tray cooking. All of them have been put to the test at home after a busy day in the office, and the ingredients are easy to find and can be scooped up on the way back from work. Ranging from the summery Strawberry, Fennel & Chicken Salad, to warming Aubergine & Red Lentil Curry and zesty Sea Bass with Thai Vegetable Noodles, there is something here for every mood, diet and seasons. Most of the recipes are wheat- and dairy-free, and are all naturally low in fat, sugar and refined carbohydrates. Also including a guide to larder essentials, suggestions for leftovers, ingredient substitutions and simple variations, this is a one-stop cooking resource for stressed, busy people.
Special Thanks:
ARC was kindly
provided by publisher, Watkins Media Limited, via Netgalley in exchange for an honest review. Thank you.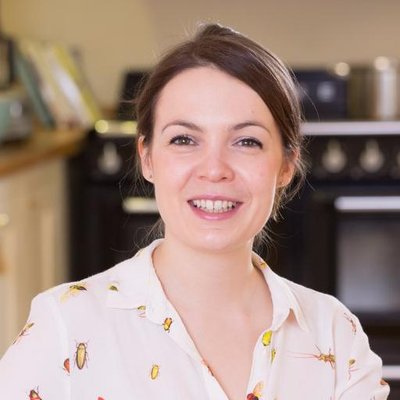 About The Author:
Katriona MacGregor is a chef, cookery writer, and journalist who writes a hugely popular weekly column for The Telegraph. Her personal experience of stress, fatigue, and autoimmune thyroid disease has led her to create recipes that are simple to make but focus on good ingredients and wholesome food.