T
his
week I will be reading and reviewing three novels. They are all emotional, captivating, and overall moving novels (especially the first two).
1.

Invisible Summer byAlice Adams
Four friends. Twenty years. One unexpected journey.
Inseparable throughout college, Eva, Benedict, Sylvie, and Lucien graduate in 1997, into an exhilarating world on the brink of a new millennium. Hopelessly in love with playboy Lucien and eager to shrug off the socialist politics of her upbringing, Eva breaks away to work for a big bank. Benedict, a budding scientist who's pined for Eva for years, stays on to complete his PhD in physics, devoting his life to chasing particles as elusive as the object of his affection. Siblings Sylvie and Lucien, never much inclined toward mortgages or monogamy, pursue more bohemian existences-she as an aspiring artist and he as a club promoter and professional partyer. But as their twenties give way to their thirties, the group struggles to navigate their thwarted dreams. Scattered across Europe and no longer convinced they are truly the masters of their fates, the once close-knit friends find themselves filled with longing for their youth- and for one another. Broken hearts and broken careers draw the foursome together again, but in ways they never could have imagined.
A dazzling depiction of the highs and lows of adulthood,
Invincible Summer
is a story about finding the courage to carry on in the wake of disappointment, and a powerful testament to love and friendship as the constants in an ever-changing world.
2.
The Memory Book by Lara Avery
They tell me that my memory will never be the same, that I'll start forgetting things. At first just a little, and then a lot. So I'm writing to remember.
Sammie was always a girl with a plan: graduate at the top of her class and get out of her small town as soon as humanly possible. Nothing will stand in her way--not even a rare genetic disorder the doctors say will slowly start to steal her memories and then her health. What she needs is a new plan.
So the Memory Book is born: Sammie's notes to her future self, a document of moments great and small. It's where she'll record every perfect detail of her first date with longtime crush, Stuart--a brilliant young writer who is home for the summer. And where she'll admit how much she's missed her childhood best friend, Cooper, and even take some of the blame for the fight that ended their friendship.
Through a mix of heartfelt journal entries, mementos, and guest posts from friends and family, readers will fall in love with Sammie, a brave and remarkable girl who learns to live and love life fully, even though it's not the life she planned.
3.
Crazy About Love by Cassie Mae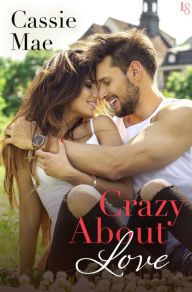 Single again on Valentine's Day, struggling actor Alec Tucker agrees to help out his longtime friend—and unrequited love—Theresa Jones by filling in as one of the bachelors for her company's charity auction. Alec figures it couldn't hurt to meet someone new. Still, working with Theresa reminds him of all the reasons he never got over her. So it feels a little bittersweet when, out of nowhere, a beautiful young street artist buys a date with him for a whopping four grand.

Little does he know, Theresa's had a major change of heart. She's crushed when someone else wins a date with Alec—but she isn't going down without a fight. After a pep talk from her best friend, Theresa makes a desperate move that goes against her better judgment . . . and things only get crazier from there. But with Alec ready to move on and Theresa afraid she's pushed him away for good, maybe a little crazy is exactly what they need—before they both miss their shot.