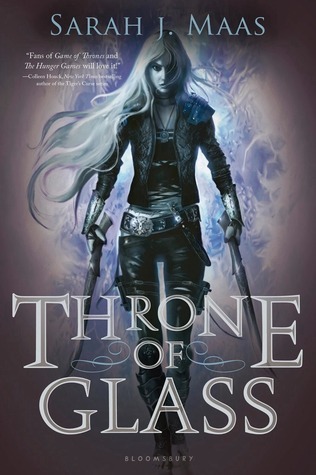 Throne of Glass
by Sarah J. Maas
Published by
Bloomsbury USA Children's on May 7 2013
Genres:
Fantasy, Young Adult, Romance, Adventure
Pages:
224
Series:
Throne of Glass - Book One
Format:
Bought online
Source:
Amazon
In a land without magic, where the king rules with an iron hand, an assassin is summoned to the castle. She comes not to kill the king, but to win her freedom. If she defeats twenty-three killers, thieves, and warriors in a competition, she is released from prison to serve as the king's champion. Her name is Celaena Sardothien.

The Crown Prince will provoke her. The Captain of the Guard will protect her. But something evil dwells in the castle of glass--and it's there to kill. When her competitors start dying one by one, Celaena's fight for freedom becomes a fight for survival, and a desperate quest to root out the evil before it destroys her world.
Review:
Throne of Glass is a work of art! There is no words to describe how unique the world Sarah J. Maas created or how beautifully real every one of her characters felt.
"You could rattle the stars," she whispered. "You could do anything, if only you dared. And deep down, you know it, too. That's what scares you most."
Celaena Sardothien, a young assassin trained by the King of Assassins, is betrayed and caught. Sentenced to hard labour in the salt mines, she faces difficulties that no human should ever face. After about a year, Celaena is offered the chance of a lifetime - become the King's champion, and ultimately defeat the other twenty-three candidates, or stay in the salt mine for the rest of her life. Knowing that if she stays she would not last another year, Celaena jumps at the opportunity to escape and experience freedom...even if it is limited.
I can not believe that people are ranting about how "girly" or "feminine" Celaena is and how she is an unbelievable assassin. I can't see it. She's narcissistic, tough, and vain. Her personality, traits, and overall attitude exemplified that of an assassin. No matter what I still like Celaena, she is a hilariously funny badass assassin.
"We all bear scars,... Mine just happen to be more visible than most."
Besides Celaena, there were other characters that not only made this novel more entertaining but also swoon worthy. Both love interests, opponents, friends, and even enemies made this novel more appealing for me to read. Then we have the matches, where we see Celaena's capability and strength, and monsters summoned by magic.
This fast paced novel left me craving more. I will definitely be ordering the sequel after I finish writing this review. Right. Away.
I definitely recommend this novel to those that like badass heroines, disgusting monsters, a bit of magic in their lives.
Rating:
★
★
★
★
★
About The Author:
Sarah J. Maas is the New York Times and USA Today bestselling author of the Throne of Glass series (Queen of Shadows, Book 4, will be out in September 2015), as well as the A Court of Thorns and Roses series (out 5/5/15).
Sarah lives in Bucks County, PA, and over the years, she has developed an unhealthy appreciation for Disney movies and bad pop music. She adores fairy tales and ballet, drinks too much tea, and watches an ungodly amount of TV. When she's not busy writing, she can be found exploring the historic and beautiful Pennsylvania countryside with her husband and canine companion.