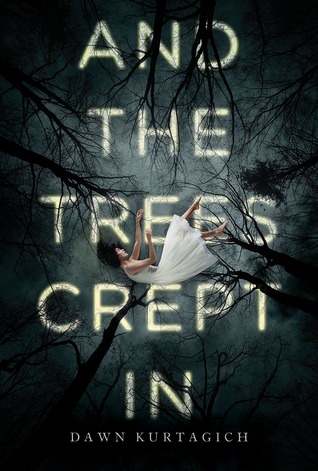 And The Trees Crept In
by Dawn Kurtagich
Published by
Little Brown Books for Young Readers
Expected Publication:
September 6th 2016
Genres:
Young Adult, Horror, Thriller, Mystery,
Pages:
352
Format:
ARC
Source:
requested from Hachette Book Group Canada
Summary from Goodreads:

A stunning, terrifying novel about a house the color of blood and the two sisters who are trapped there, by The Dead Houseauthor Dawn Kurtagich


When Silla and Nori arrive at their aunt's home, it's immediately clear that the "blood manor" is cursed. The creaking of the house and the stillness of the woods surrounding them would be enough of a sign, but there are secrets too--the questions that Silla can't ignore: Who is the beautiful boy that's appeared from the woods? Who is the man that her little sister sees, but no one else? And why does it seem that, ever since they arrived, the trees have been creeping closer?


Filled with just as many twists and turns as The Dead House, and with achingly beautiful, chilling language that delivers haunting scenes, AND THE TREES CREPT IN is the perfect follow-up novel for master horror writer Dawn Kurtagich.
Review:
If I could only use one word to describe this novel, it would have to be weird.
And The Trees Crept In
revolves around sisters, Pricilla and Eleanor. Having escaped their abusive father, they head to their aunt's home, La Baume. Almost immediately, one can tell that the estate is "cursed". The townspeople begin to disappear, their maternal aunt loses her mind, both girls are told not to enter the woods, and the seemingly unmovable trees seem to be moving closer every day.
And The Trees Crept In absolutely terrified me. I sat at the end of my seat, scared to move, well reading. This novel was filled with everything that would have made me crawl into bed and throw my duvet over my head, waiting until I can go to sleep. It was beyond creepy and disturbing. It is definitely a novel I would not continue reading once it gets dark out.
However, there were moments where I felt repulsed by the characters. The way they acted at times felt both unbelievable and unrealistic. I mean if some freakin weird being called "the Boogey Man" came and took my little sister, I would chase that thing to the ends of the world and slaughter it. I wouldn't stop to have sexy times with a guy I, technically, barely know. This novel could have done without the romance.
Overall, I would still recommend this novel to those that enjoy reading horror and thriller novels.
Rating:
★
★
★
About The Author:
Dawn Kurtagich is a writer of creepy, spooky and psychologically sinister YA fiction, where girls may descend into madness, boys may see monsters in men, and grown-ups may have something to hide. Her debut YA novel, The Dead House, is forthcoming from Hachette in 2015.
By the time she was eighteen, she had been to fifteen schools across two continents. The daughter of a British globe-trotter and single mother, she grew up all over the place, but her formative years were spent in Africa—on a mission, in the bush, in the city and in the desert.
She has been lucky enough to see an elephant stampede at close range, a giraffe tongue at very close range, and she once witnessed the stealing of her (and her friends') underwear by very large, angry baboons. (This will most definitely end up in a book . . . ) While she has quite a few tales to tell about the jumping African baboon spider, she tends to save these for Halloween!
She writes over at the YA Scream Queens, a young adult blog for all things horror and thriller, and she is a member of the YA League and Author Allsorts.
Her life reads like a YA novel.