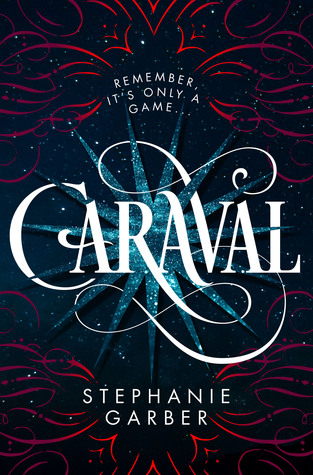 Caraval
by Stephanie Garber
Published by
Flatiron Books
Expected Publication:
January 10th 2017
Genres:
Young Adult, Fantasy, Romance
Pages:
401
Format:
ARC
Source:
requested by publisher
Summary from Goodreads:
Before you enter the world of Caraval, you must remember that it's all a game . . .

Scarlett has never left the tiny island where she and her beloved sister, Tella, live with their ruthless father. Now Scarlett's father has arranged a marriage for her, and Scarlett thinks her dreams of seeing Caraval, the legendary, once-a-year performance where the audience participates in the show, are over.

Then, Scarlett's long-dreamt of invitation to Caraval finally arrives. So, Tella enlists a mysterious sailor's help to whisk Scarlett away to this year's show. But as soon as the trio arrives, Tella is kidnapped by Caraval's mastermind organizer, Legend.

Scarlett has been told that everything that happens during Caraval is only an elaborate performance. But she nonetheless soon becomes enmeshed in a game of love, heartbreak, and magic with her sister, with Legend, and with the other players in the game. And whether Caraval is real or not, she must find Tella before the five nights of the game are over, a dangerous domino effect of consequences is set off, and her sister disappears forever.
Review:
Caraval is one of my most favourite books of 2016 and 2017.
Scarlett and her sister, Tella, have never left the island where they live. As Scarlett's arranged marriage, set by her ruthless and cunning father, is coming closer she thinks that her chances of seeing Caraval - a once-a-year performance where the audience gets to participate in the show - are long gone. But, suddenly the long dreamed of invitation arrives.
With the help of a sailor, Tella whisks Scarlett away to the legendary show. However, when they all arrive, Tella is kidnapped by the mastermind of Caraval, Legend.
Scarlett has been told that everything that happens during Caraval is an elaborate performance, but she finds herself becoming,
nonetheless,
immersed in the game. Whether or not Caraval is real, she only focuses on the task of finding Tella before the five nights of the game are over and she loses her sister forever.
I don't even know where to begin. Let me just start off by saying that the cover is freaking befitting for the novel. Seriously, let's take a moment to appreciate how amazing this cover is. Okay, enough oggling, time to dive into the review.
The plot was created and woven so perfectly that you begin to feel like you are a part of this whole adventure. The plot twists, were an absolute delight that left me on the edge of my seat. The characters and relationships in this novel, were so breathtaking and heartwarming. I also loved how the romance wasn't the central focus of the novel and that the most prominent relationship within the novel had to be between Scarlett and Tella. The bond was the strongest and most unbreakable relationship within the novel.
The whole book is absolutely amazing! Between the sisterly affection and support, and the romance that was unfolding throughout the novel, the novel just seemed to be wrapped in a bow of perfection. Then the ending, oh my gosh. There is no words to describe how I feel about it... all I can say is that I will be in a puddle of despair until I get the sequel...in 2018. [I am seriously lost. I don't know what book to pick up next. All I can think about when I pick up another book is that, I want to read more about these characters.]
Stephanie Garber is a talented debut author that has put in a lot of effect and thought into this novel. This has to not only be one of my most favourite novels of 2016/2017 but also one of my most favourite books to have read...ever. It was a highly emotional rollercoaster, that was both fun an endearing. I can definitely pick this novel up and re-read it.
Overall, Caraval is a must-read. Preorder it, request it, and patiently wait for it. Oh, who am I kidding. Preorder it and go crazy. It's five months until it's released, so go crazy with want and need. But trust me, it is definitely worth the wait.
Rating:
★
★
★
★
★
About The Author:
Stephanie Garber loves Disneyland because it's the one place on earth where she feels as if the fantastical stories she loves to write about could actually come to life. When she's not writing young adult fantasy, she teaches creative writing at a private college in northern California, where she's known for turning assignments into games and taking students on field trips that involve book signings. CARAVAL is her debut novel.