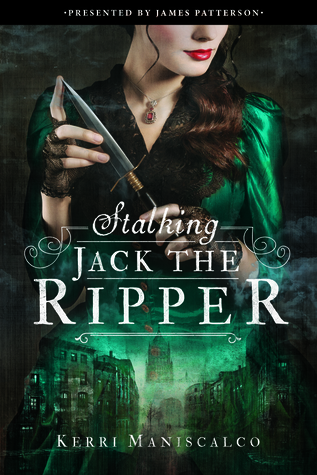 Stalking Jack the Ripper
by Kerri Maniscalco
Published by
Jimmy Patterson
Expected Publication:
September 20th 2016
Genres:
Young Adult, Historical Fiction, Mystery, Horror
Pages:
336
Series:
Book One in a Trilogy
Format:
ARC
Source:
requested by Hachette Book Group Canada
Summary from Goodreads:
Presented by James Patterson's new children's imprint, this deliciously creepy horror novel has a storyline inspired by the Ripper murders and an unexpected, blood-chilling conclusion...

Seventeen-year-old Audrey Rose Wadsworth was born a lord's daughter, with a life of wealth and privilege stretched out before her. But between the social teas and silk dress fittings, she leads a forbidden secret life.

Against her stern father's wishes and society's expectations, Audrey often slips away to her uncle's laboratory to study the gruesome practice of forensic medicine. When her work on a string of savagely killed corpses drags Audrey into the investigation of a serial murderer, her search for answers brings her close to her own sheltered world.

The story's shocking twists and turns, augmented with real, sinister period photos, will make this dazzling debut from author Kerri Maniscalco impossible to forget.
Review:
A truly captivating dark story.
Stalking Jack the Ripper is, at times, bone chilling to read. Audrey Rose Wadsworth, a seventeen-year-old daughter of a lord, has a stretched out life of wealth and privilege laid out before her. However, when she is not attending social gatherings, dress fittings, and calls she is hiding a secret life, a part of her life that is both forbidden and exciting.
Going against the ways of society and her father's own wishes, Audrey studies the practice of forensic medicine in her uncle's laboratory. But when the mangled corpses lead her into the investigation of a serial killer, her search sheds light on the darkest corners of her once privileged world.
Kerri Maniscalco managed to not only write realistic humane characters but also make them all likeable, in their own twisted way. Every single character was flawed, highly flawed, but so eye-catching. You would want to get to know them, be friends (or enemies), and live life knowing what makes them laugh and what makes them tick. The writing was also a bonus. Kerri Maniscalco's writing style was quite enjoyable to read from beginning to end. She managed to capture the perfect atmosphere for almost every scene.
However, there were a few things I didn't necessarily enjoy when reading this novel. One of which would have to be the romance. I am a major romance reader, in case you haven't noticed so far, so when I began noticing the romance that was unfolding I was a little taken aback but still intrigued. Both characters, Audrey and Thomas, are unique and captivating in their own way...but when put together in a romantic sense, it just didn't make sense. There was no chemistry or sparks that would give me any indication that they seemed perfect together. The romance ultimately fell short. The sad thing is it had the potential to become an enticing love-hate relationship.
Another reason why I gave this novel a three-star review is that the novel was not that captivating. It wasn't as interesting or exciting as I had hoped it would be. Stalking Jack the Ripper was a slow read, at times I would go back because I would lose track of what was going on, it was quite tedious and tiring. I wished that there was more excitement, more adventure and action, just more.
Overall, this was a good read with unique characters written by a new debuting author.
By the way, isn't the illustration shown above amazing!
The artist is
@phantomrin
.
Rating:
★
★
★
About The Author:
Kerri Maniscalco grew up in a semi-haunted house outside NYC where her fascination with gothic settings began. In her spare time she reads everything she can get her hands on, cooks all kinds of food with her family and friends, and drinks entirely too much tea while discussing life's finer points with her cats. Stalking Jack the Ripper is her debut novel. It incorporates her love of forensic science and unsolved history, and is the first in a new series of gothic thrillers.
It will be available everywhere September 20, 2016.
For more information, visit Kerri online:
www.kerrimaniscalco.com
Follow Kerri on Twitter and Instagram:
twitter.com/KerriManiscalco
instagram.com/kerrimaniscalco