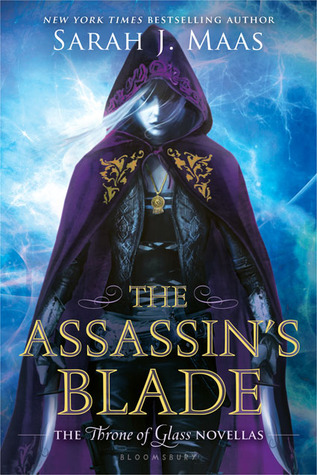 The Assassin's Blade
by Sarah J. Maas
Published by
Bloomsbury USA Children's on March 4th 2014
Genres:
Fantasy, Young Adult, Romance, Adventure
Pages:
430
Series:
Throne of Glass 0.1 - 0.5
Format:
Bought online
Source:
Indigo
Summary from Goodreads:
Celaena Sardothien owes her reputation to Arobynn Hamel. He gave her a home at the Assassins' Guild and taught her the skills she needed to survive.





Arobynn's enemies stretch far and wide - from Adarlan's rooftops and its filthy dens, to remote islands and hostile deserts. Celaena is duty-bound to hunt them down. But behind her assignments lies a dark truth that will seal her fate - and cut her heart in two forever...





Explore the dark underworld of this kick-ass heroine and find out how the legend begins in the five page-turning prequel novellas to the

New York Times

bestselling Throne of Glass series.
Review:
I absolutely adore The Assassin's Blade!
The Assassin's Blade
, five novellas bunched together in the form of a prequel, is heartbreaking. The stories take place during the years Celaena worked as an elite assassin for her master, Arobynn. It sheds light on the woman we met as Celaena in
Throne of Glass
. She tries to gain the love and approval that she wasn't able to receive, due to the death of her parents, and yet despite her need to be loved she is unwilling to compromise her own beliefs and values. She stands up and does what she wants, what she thinks is right, in the end.
In the end, these novellas brought so much insight into who the real Celaena is and how she came to be who she is in Throne of Glass. I definitely recommend you pick up The Assassin's Blade if you are a fan of the Throne of Glass series.
Side note
: I can not get enough of these badass heroines!
Rating:
★
★
★
★
About The Author:
Sarah J. Maas is the New York Times and USA Today bestselling author of the Throne of Glass series (Queen of Shadows, Book 4, will be out in September 2015), as well as the A Court of Thorns and Roses series (out 5/5/15).
Sarah lives in Bucks County, PA, and over the years, she has developed an unhealthy appreciation for Disney movies and bad pop music. She adores fairy tales and ballet, drinks too much tea, and watches an ungodly amount of TV. When she's not busy writing, she can be found exploring the historic and beautiful Pennsylvania countryside with her husband and canine companion.