This year I was invited to attend the HCC Frenzy Presents event! Every year HarperCollins Canada hosts this event where they talk about upcoming fall/winter releases, give out some book swag, and hang out with and meet amazing people.
------------------------------------------------------------------------------------
On August 21st, HarperCollins (HCC) kindly invited me as well as some other bloggers and booktubers from the Toronto area to HCC FRENZY PRESENTS. The event consisted of a presentation on the eighteen upcoming fall/winter releases, goodie bags, and time to eat some snacks and socialize.
I was definitely excited to have been invited. I was also so nervous, this was my first ever blogger event. When I first got the email, I was so shocked and happy. Let's just say that I had a fangirl moment when I opened the email.
On every seat there were these cute little Red Queen notebooks and a pen. When the majority of bloggers and booktubers were in attendance, the presentation began. The presentation was roughly around an hour and ten minutes filled with discussions about the upcoming releases. Besides discussing such unique and appealing novels, that I would love to have added onto my TBR, there was also the appearance of two authors.
The first author to take the floor would be M-E Girad, the author of Girl Mans Up (being released this September). She filled us in on her inspirational and relatable novel, and fun little tidbits about the novel itself - did you know that the cover was created by Adams Carvalho, who is also Portuguese. GMU has also been included in a USA Today feature on transgender themes in teen fiction, plus already has a starred review by Publishers Weekly, Quill & Quire's September 2016 issue, and Kirkus Reviews.
The second author to make an appearance was Kenneth Oppel, the author of Airborn and Every Hidden Thing (being released this September). He talked about the inspiration for EHT, how he enjoyed writing a story about something completely new, and answered a few questions.
Overall, I am so grateful to have been invited and am so happy to have meet both Caitlin from
The Y.A. Bookworm Blogger
and Hayley from Booking It With Hayley G. Thanks once again HarperCollins Canada for such a fun afternoon, and M-E Giard and Kenneth Oppel for attending and signing everyone's books. It was truly an experience I will remember for a long time.
Some of the books we discussed include (in no particular order):
Girl Mans Up
by M-E Girard
Publication Date:
September 6th, 2016
Summary from Goodreads:
All Pen wants is to be the kind of girl she's always been. So why does everyone have a problem with it? They think the way she looks and acts means she's trying to be a boy—that she should quit trying to be something she's not. If she dresses like a girl, and does what her folks want, it will show respect. If she takes orders and does what her friend Colby wants, it will show her loyalty. But respect and loyalty, Pen discovers, are empty words. Old-world parents, disintegrating friendships, and strong feelings for other girls drive Pen to see the truth--that in order to be who she truly wants to be, she'll have to man up.
As I Descended
by Robin Talley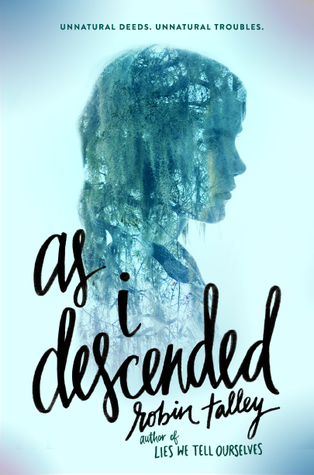 Publication Date:
September 6th, 2016
Summary from Goodreads:
Maria Lyon and Lily Boiten are their school's ultimate power couple—even if no one knows it but them.
Only one thing stands between them and their perfect future: campus superstar Delilah Dufrey.
Golden child Delilah is a legend at the exclusive Acheron Academy, and the presumptive winner of the distinguished Cawdor Kingsley Prize. She runs the school, and if she chose, she could blow up Maria and Lily's whole world with a pointed look, or a carefully placed word.
But what Delilah doesn't know is that Lily and Maria are willing to do anything—absolutely anything—to make their dreams come true. And the first step is unseating Delilah for the Kingsley Prize. The full scholarship, awarded to Maria, will lock in her attendance at Stanford―and four more years in a shared dorm room with Lily.
Maria and Lily will stop at nothing to ensure their victory—including harnessing the dark power long rumored to be present on the former plantation that houses their school.
But when feuds turn to fatalities, and madness begins to blur the distinction between what's real and what is imagined, the girls must decide where they draw the line.
From acclaimed author Robin Talley comes a Shakespeare-inspired story of revenge and redemption, where fair is foul, and foul is fair.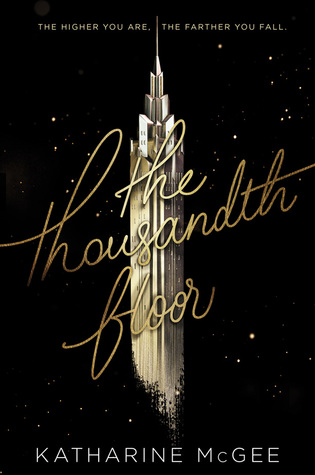 The Thousandth Floor
by Katharine McGee
Publication Date:
August 30th, 2016
Summary from Goodreads:
New York City as you've never seen it before. A thousand-story tower stretching into the sky. A glittering vision of the future, where anything is possible—if you want it enough.

Welcome to Manhattan, 2118.
A hundred years in the future, New York is a city of innovation and dreams. But people never change: everyone here wants something…and everyone has something to lose.
Leda Cole's flawless exterior belies a secret addiction—to a drug she never should have tried and a boy she never should have touched.
Eris Dodd-Radson's beautiful, carefree life falls to pieces when a heartbreaking betrayal tears her family apart.
Rylin Myers's job on one of the highest floors sweeps her into a world—and a romance—she never imagined…but will her new life cost Rylin her old one?
Watt Bakradi is a tech genius with a secret: he knows everything about everyone. But when he's hired to spy by an upper-floor girl, he finds himself caught up in a complicated web of lies.
And living above everyone else on the thousandth floor is Avery Fuller, the girl genetically designed to be perfect. The girl who seems to have it all—yet is tormented by the one thing she can never have.
Debut author Katharine McGee has created a breathtakingly original series filled with high-tech luxury and futuristic glamour, where the impossible feels just within reach. But in this world, the higher you go, the farther there is to fall….
Leave Me
by Gayle Forman
Publication Date:
September 6th, 2016
Summary from Goodreads:
For every woman who has ever fantasized about driving past her exit on the highway instead of going home to make dinner, for every woman who has ever dreamed of boarding a train to a place where no one needs constant attention--meet Maribeth Klein. A harried working mother who's so busy taking care of her husband and twins, she doesn't even realize she's had a heart attack.
Afterward, surprised to discover that her recuperation seems to be an imposition on those who rely on her, Maribeth does the unthinkable: She packs a bag and leaves. But, as is so often the case, once we get to where we're going, we see our lives from a different perspective. Far from the demands of family and career and with the help of liberating new friendships, Maribeth is finally able to own up to secrets she has been keeping from those she loves and from herself.
With big-hearted characters who stumble and trip, grow and forgive, Leave Me is about facing our fears. Gayle Forman, a dazzling observer of human nature, has written an irresistible novel that confronts the ambivalence of modern motherhood head-on.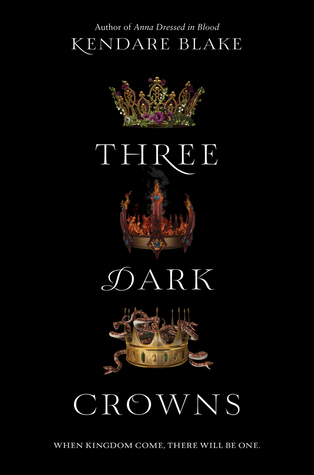 Three Dark Crowns
by Kendare Blake
Publication Date:
September 20th, 2016
Summary from Goodreads:
Every generation on the island of Fennbirn, a set of triplets is born: three queens, all equal heirs to the crown and each possessor of a coveted magic. Mirabella is a fierce elemental, able to spark hungry flames or vicious storms at the snap of her fingers. Katharine is a poisoner, one who can ingest the deadliest poisons without so much as a stomachache. Arsinoe, a naturalist, is said to have the ability to bloom the reddest rose and control the fiercest of lions.

But becoming the Queen Crowned isn't solely a matter of royal birth. Each sister has to fight for it. And it's not just a game of win or lose…it's life or death. The night the sisters turn sixteen, the battle begins. The last queen standing gets the crown.

If only it was that simple. Katharine is unable to tolerate the weakest poison, and Arsinoe, no matter how hard she tries, can't make even a weed grow. The two queens have been shamefully faking their powers, taking care to keep each other, the island, and their powerful sister Mirabella none the wiser. But with alliances being formed, betrayals taking shape, and ruthless revenge haunting the queens' every move, one thing is certain: the last queen standing might not be the strongest…but she may be the darkest.
The Female of the Species
by Mindy McGinnis
Publication Date:
September 20th, 2016
Summary from Goodreads:
Alex Craft knows how to kill someone. And she doesn't feel bad about it. When her older sister, Anna, was murdered three years ago and the killer walked free, Alex uncaged the language she knows best. The language of violence.

While her crime goes unpunished, Alex knows she can't be trusted among other people, even in her small hometown. She relegates herself to the shadows, a girl who goes unseen in plain sight, unremarkable in the high school hallways.

But Jack Fisher sees her. He's the guy all other guys want to be: the star athlete gunning for valedictorian with the prom queen on his arm. Guilt over the role he played the night Anna's body was discovered hasn't let him forget Alex over the years, and now her green eyes amid a constellation of freckles have his attention. He doesn't want to only see Alex Craft; he wants to know her.

So does Peekay, the preacher's kid, a girl whose identity is entangled with her dad's job, though that does not stop her from knowing the taste of beer or missing the touch of her ex-boyfriend. When Peekay and Alex start working together at the animal shelter, a friendship forms and Alex's protective nature extends to more than just the dogs and cats they care for.

Circumstances bring Alex, Jack, and Peekay together as their senior year unfolds. While partying one night, Alex's darker nature breaks out, setting the teens on a collision course that will change their lives forever.
The Queen of Blood
by Sarah Beth Durst
Publication Date:
September 20th, 2016
Summary from Goodreads:
An idealistic young student and a banished warrior become allies in a battle to save their realm in this first book of a mesmerizing epic fantasy series, filled with political intrigue, violent magic, malevolent spirits, and thrilling adventure
Everything has a spirit: the willow tree with leaves that kiss the pond, the stream that feeds the river, the wind that exhales fresh snow . . .
But the spirits that reside within this land want to rid it of all humans. One woman stands between these malevolent spirits and the end of humankind: the queen. She alone has the magical power to prevent the spirits from destroying every man, woman, and child. But queens are still just human, and no matter how strong or good, the threat of danger always looms.
With the position so precarious, young women are chosen to train as heirs. Daleina, a seemingly quiet academy student, is under no illusions as to her claim to the throne, but simply wants to right the wrongs that have befallen the land. Ven, a disgraced champion, has spent his exile secretly fighting against the growing number of spirit attacks. Joining forces, these daring partners embark on a treacherous quest to find the source of the spirits' restlessness—a journey that will test their courage and trust, and force them to stand against both enemies and friends to save their land . . . before it's bathed in blood.
Frost Like Night
by Sara Raasch
Publication Date:
September 20th, 2016
Summary from Goodreads:
Angra is alive, his Decay is spreading—and no one is safe.
Meira will do anything to save her world. With Angra trying to break through her mental defenses, she desperately needs to learn to control her own magic—so when the leader of a mysterious Order from Paisly offers to teach her, she jumps at the chance. But the true solution to stopping the Decay lies in a labyrinth deep beneath the Season Kingdoms. To defeat Angra, Meira will have to enter the labyrinth, destroy the very magic she's learning to control—and make the biggest sacrifice of all.
Mather will do anything to save his queen. He needs to rally the Children of the Thaw, find Meira—and finally tell her how he really feels. But with a plan of attack that leaves no kingdom unscathed and a major betrayal within their ranks, winning the war—and protecting Meira—slips farther and farther out of reach.
Ceridwen will do anything to save her people. Angra had her brother killed, stole her kingdom, and made her a prisoner. But when she's freed by an unexpected ally who reveals a shocking truth behind Summer's slave trade, Ceridwen must take action to save her true love and her kingdom, even if it costs her what little she has left.
As Angra unleashes the Decay on the world, Meira, Mather, and Ceridwen must bring the kingdoms of Primoria together…or lose everything.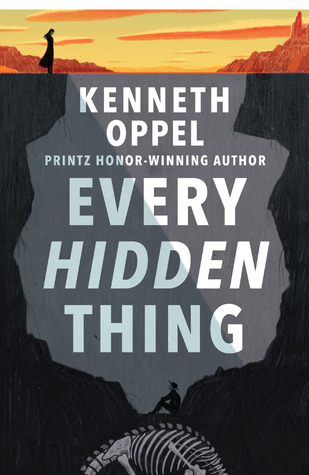 Every Hidden Thing
by Kenneth Oppel
Publication Date:
September 20th, 2016
Summary from Goodreads:
Somewhere in the Badlands, embedded deep in centuries-buried rock and sand, lies the skeleton of a massive dinosaur, larger than anything the late nineteenth-century world has ever seen. Some legends call it the Black Beauty, with its bones as black as ebony, but to seventeen-year-old Samuel Bolt, it's the "rex," the king dinosaur that could put him and his struggling, temperamental archaeologist father in the history books (and conveniently make his father forget he's been kicked out of school), if they can just quarry it out.
But Samuel and his father aren't the only ones after the rex. For Rachel Cartland this find could be her ticket to a different life, one where her loves of science and adventure aren't just relegated to books and sitting rooms. And if she can't prove herself on this expedition with her professor father, the only adventures she may have to look forward to are marriage or spinsterhood.
As their paths cross and the rivalry between their fathers becomes more intense, Samuel and Rachel are pushed closer together. Their flourishing romance is one that will never be allowed. And with both eyeing the same prize, it's a romance that seems destined for failure. As their attraction deepens, danger looms on the other side of the hills, causing everyone's secrets to come to light and forcing Samuel and Rachel to make a decision. Can they join forces to find their quarry, and with it a new life together, or will old enmities and prejudices keep them from both the rex and each other?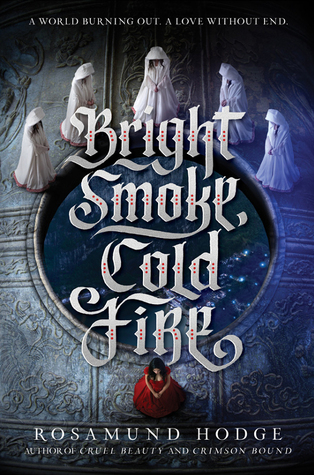 Bright Smoke, Cold Fire
by Rosamund Hodge
Publication Date:
September 27th, 2016
Summary from Goodreads:
When the mysterious fog of the Ruining crept over the world, the living died and the dead rose. Only the walled city of Viyara was left untouched.
The heirs of the city's most powerful—and warring—families, Mahyanai Romeo and Juliet Catresou share a love deeper than duty, honor, even life itself. But the magic laid on Juliet at birth compels her to punish the enemies of her clan—and Romeo has just killed her cousin Tybalt. Which means he must die.
Paris Catresou has always wanted to serve his family by guarding Juliet. But when his ward tries to escape her fate, magic goes terribly wrong—killing her and leaving Paris bound to Romeo. If he wants to discover the truth of what happened, Paris must delve deep into the city, ally with his worst enemy . . . and perhaps turn against his own clan.
Mahyanai Runajo just wants to protect her city—but she's the only one who believes it's in peril. In her desperate hunt for information, she accidentally pulls Juliet from the mouth of death—and finds herself bound to the bitter, angry girl. Runajo quickly discovers Juliet might be the one person who can help her recover the secret to saving Viyara.
Both pairs will find friendship where they least expect it. Both will find that Viyara holds more secrets and dangers than anyone ever expected. And outside the walls, death is waiting. . .
Replica
by Lauren Oliver
Publication Date:
October 4th, 2016
Summary from Goodreads:
Gemma has been in and out of hospitals since she was born. 'A sickly child', her lonely life to date has revolved around her home, school and one best friend, Alice. But when she discovers her father's connection to the top secret Haven research facility, currently hitting the headlines and under siege by religious fanatics, Gemma decides to leave the sanctuary she's always known to find the institute and determine what is going on there and why her father's name seems inextricably linked to it.

Amidst the frenzy outside the institute's walls, Lyra - or number 24 as she is known as at Haven - and a fellow experimental subject known only as 72, manage to escape. Encountering a world they never knew existed outside the walls of their secluded upbringing , they meet Gemma and, as they try to understand Haven's purpose together, they uncover some earth-shattering secrets that will change the lives of both girls forever...
Of Fire and Stars
by Audrey Coulthurst
Publication Date:
November 22nd, 2016
Summary from Goodreads:
Betrothed since childhood to the prince of Mynaria, Princess Dennaleia has always known what her future holds. Her marriage will seal the alliance between Mynaria and her homeland, protecting her people from other hostile lands. But Denna has a secret. She possesses an Affinity for fire—a dangerous gift for the future queen of a kingdom where magic is forbidden.

Now, Denna must learn the ways of her new home while trying to hide her growing magic. To make matters worse, she must learn to ride Mynaria's formidable warhorses before her coronation—and her teacher is the person who intimidates her most, the prickly and unconventional Princess Amaranthine (called Mare), sister of her betrothed.

When a shocking assassination leaves the kingdom reeling, Mare and Denna reluctantly join forces to search for the culprit. As the two work together, each discovers there's more to the other than she thought. Mare is surprised by Denna's intelligence and bravery, while Denna is drawn to Mare's independent streak. Soon their friendship is threatening to blossom into something more.

But with dangerous conflict brewing that makes the alliance more important than ever, acting on their feelings could be deadly. Forced to choose between their duty and their hearts, Mare and Denna must find a way to save their kingdoms—and each other.
Carve the Mark
by Veronica Roth
Publication Date:
January 17th, 2017
Summary from Goodreads:
Fans of Star Wars and Divergent will revel in internationally bestselling author Veronica Roth's stunning new science-fiction fantasy series.

On a planet where violence and vengeance rule, in a galaxy where some are favored by fate, everyone develops a currentgift, a unique power meant to shape the future. While most benefit from their currentgifts, Akos and Cyra do not—their gifts make them vulnerable to others' control. Can they reclaim their gifts, their fates, and their lives, and reset the balance of power in this world?

Cyra is the sister of the brutal tyrant who rules the Shotet people. Cyra's currentgift gives her pain and power—something her brother exploits, using her to torture his enemies. But Cyra is much more than just a blade in her brother's hand: she is resilient, quick on her feet, and smarter than he knows.

Akos is from the peace-loving nation of Thuvhe, and his loyalty to his family is limitless. Though protected by his unusual currentgift, once Akos and his brother are captured by enemy Shotet soldiers, Akos is desperate to get his brother out alive—no matter what the cost. When Akos is thrust into Cyra's world, the enmity between their countries and families seems insurmountable. They must decide to help each other to survive—or to destroy one another.
King's Cage
by Victoria Aveyard
Publication Date:
February 7th, 2017
Summary from Goodreads:
In the third book in the #1
New York Times
bestselling Red Queen series, Mare is forced to play a psychological cat-and-mouse game with an old and deadly enemy, where the stakes are not only the future of the Red Rebellion but the sanctity of her own mind.
The Valiant
by Lesley Livingston
Publication Date:
February 14th, 2017
Summary from Goodreads:
The youngest daughter of a proud Celtic king, Fallon has always lived in the shadow of her older sister Sorcha's legendary reputation as a warrior. But when Fallon was a young child, the armies of Julius Caesar invaded the island of Britain and her beloved older sister was killed in battle.

On the eve of her seventeenth birthday, Fallon is excited to follow in her sister's footsteps and earn her rightful place in her father's royal war band. But she never gets the chance. Instead, Fallon is captured by a band of ruthless brigands who sell her to an exclusive training school for female gladiators—and its most influential patron is none other than Julius Caesar himself. In a cruel twist of fate, Fallon's worst enemy, the man who destroyed her family, might be her only hope of survival.

Now, Fallon must overcome vicious rivalries, chilling threats and the dangerous attention of Caesar himself to survive the deadly fights that take place both in and out of the arena—and claim her place in history among the Valiant.
The End of Our Story
by Meg Haston
Publication Date:
April 4th, 2017
Summary from Goodreads: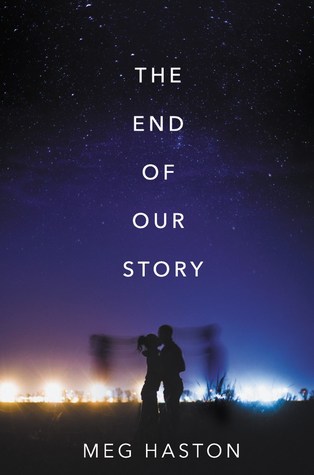 Meg Haston's romantic and thrilling new YA novel explores a star-crossed high school relationship in a tale rife with deeply buried secrets and shocking revelations.

Bridge and Wil have been entangled in each other's lives for years. Under the white-hot Florida sun, they went from kids daring each other to swim past the breakers to teenagers stealing kisses between classes. But when Bridge betrayed Wil during their junior year, she shattered his heart and their relationship along with it.

Then Wil's family suffers a violent loss, and Bridge rushes back to Wil's side. As they struggle to heal old wounds and start falling for each other all over again, Bridge and Wil discover just how much has changed in the past year. As the fierce current of tragedy threatens to pull them under, they must learn how to swim on their own—or risk drowning together.
The Upside of Unrequited
by Becky Albertalli
Publication Date:
April 11th, 2017
Summary from Goodreads: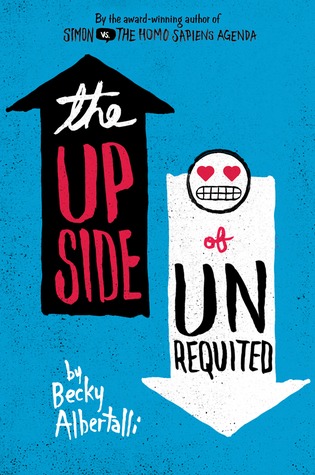 "I don't entirely understand how anyone gets a boyfriend. Or a girlfriend. It just seems like the most impossible odds. You have to have a crush on the exact right person at the exact right moment. And they have to like you back."

What does a sixteen-year-old girl have to do to kiss a boy? Molly Peskin-Suso wishes she knew. She's crushed on twenty-six guys…but has kissed exactly none. Her twin sister Cassie's advice to "just go for it" and "take a risk" isn't that helpful. It's easy for her to say: she's had flings with lots of girls. She's fearless and effortlessly svelte, while Molly is introverted and what their grandma calls zaftig.

Then Cassie meets Mina, and for the first time ever, Cassie is falling in love. While Molly is happy for her twin, she can't help but feel lonelier than ever. But Cassie and Mina are determined to end Molly's string of unrequited crushes once and for all. They decide to set her up with Mina's friend Will, who is ridiculously good-looking, flirty, and seems to be into Molly. Perfect, right? But as Molly spends more time with Reid, her cute, nerdy co-worker, her feelings get all kinds of complicated. Now she has to decide whether to follow everyone's advice…or follow her own heart.
Fireworks
by Katie Cotugno
Publication Date:
April 18th, 2017
Summary from Goodreads:
From Katie Cotugno, bestselling author of 99 Days, comes Fireworks—about a girl who is competing with her best friend to become the new pop star of the moment—and all the drama and romance that comes with it—set in Orlando during the late-'90s boy-and-girl-band craze.

It was always meant to be Olivia. She was the talented one, the one who had been training to be a star her whole life. Her best friend, Dana, was the level-headed one, always on the sidelines, cheering her best friend along.

But everything changes when Dana tags along with Olivia to Orlando for the weekend, where superproducer Guy Monroe is holding auditions for a new singing group, and Dana is discovered too. Dana, who's never sung more than Olivia's backup. Dana, who wasn't even looking for fame. Next thing she knows, she and Olivia are training to be pop stars, and Dana is falling for Alex, the earnest, endlessly talented boy who's destined to be the next big thing.

It should be a dream come true, but as the days of grueling practice and constant competition take their toll, things between Olivia and Dana start to shift . . . and there's only room at the top for one girl. For Olivia, it's her chance at her dream. For Dana, it's a chance to escape a future that seems to be closing in on her. And for these lifelong best friends, it's the adventure of a lifetime—if they can make it through.

Set in evocative 1990s Orlando, New York Times bestselling author Katie Cotugno's Fireworks brings to life the complexity of friendship, the excitement of first love, and the feeling of being on the verge of greatness.
I know I am highly anticipating the release of Leave Me by Gayle Forman, The Valiant by Lesley Livingston, The Upside of Unrequited by Becky Albertalli, and Fireworks by Katie Cotugno.
Which books are you anticipating the most?
~ Aimie
Photo collage of event: