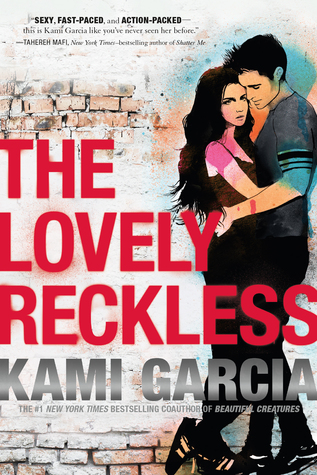 The Lovely Reckless
by Kami Garcia
Published by
Imprint
Expected Publication: October 4th 2016
Genres:
Young Adult, Contemporary, Romance
Pages:
384
Format:
eARC
Source:
Raincoast Books
Summary from Goodreads:
I've become an expert at avoiding things that could hurt me—which means I will figure out how to stay away from Marco Leone.



Seventeen-year-old Frankie Devereux would do anything to forget the past. Haunted by the memory of her boyfriend's death, she lives her life by one dangerous rule: Nothing matters. At least, that's what Frankie tells herself after a reckless mistake forces her to leave her privileged life in the Heights to move in with her dad—an undercover cop. She transfers to a public high school in the Downs, where fistfights don't faze anyone and illegal street racing is more popular than football.





Marco Leone is the fastest street racer in the Downs. Tough, sexy, and hypnotic, he makes it impossible for Frankie to ignore him—and how he makes her feel. But the risks Marco takes for his family could have devastating consequences for them both. When Frankie discovers his secret, she has to make a choice. Will she let the pain of the past determine her future? Or will she risk what little she has left to follow her heart?
Review:
I am so disappointed.
The Lovely Reckless had so much potential, but for some reason it just didn't seem to come through in the overall novel. The book was an alright read, not bad but not good. The story was decent enough, though it was full of cliches, insta-love, and basically resembles any other romance novel out there.
The Lovely Reckless revolves around Frankie, a young girl who's dealing with the recent death of her boyfriend, Noah. Deciding to live with her father, a police officer, she faces new challenges. Almost immediately, Frankie finds herself falling for Marco, the bad boy street racer.
I am not a fan of insta-love, but in the right types of setting or if written well it won't bother me as much. In this circumstance, I could not stand it. It didn't feel at all believable, or even conceivable, that Frankie and Marco would be truly in love after only meeting about four different times for 10 minutes.
Then there is the whole thing revolving street racing. It was barely even in the story at all, with about three scenes of any racing actually happening. Considering that Marco is supposed to be a badass street racer, I was surprised that it was barely involved in the overall story. Besides the racing, I saw him as a highly exhausting romantic interest.
The whole novel felt rushed, I didn't feel like I got to know a lot of the characters because of how many subplots there were & the amount of characters that just seemed to continue popping out of every corner.
Overall, I didn't hate it but I didn't love it either. One thing I can definitely tell you is that I won't be picking this novel up again.
Rating:
★
★
★
About The Author:
Kami Garcia is the #1 New York Times & USA Today bestselling co-author of the Beautiful Creatures novels & the Dangerous Creatures novels, and the author of the instant New York Times bestseller & Bram Stoker Award nominated novels UNBREAKABLE & UNMARKED in the Legion Series. Her contemporary romance THE LOVELY RECKLESS releases on October 4th (Imprint/Macmillan).
Kami grew up outside of Washington DC, wore lots of black, and spent hours writing poetry in spiral notebooks. When Kami isn't writing, she lives to bake, watch bad disaster movies, and listen to Soundgarden. She lives in Maryland with her husband, son, daughter, and their dogs Spike and Oz (named after characters from Buffy the Vampire Slayer).