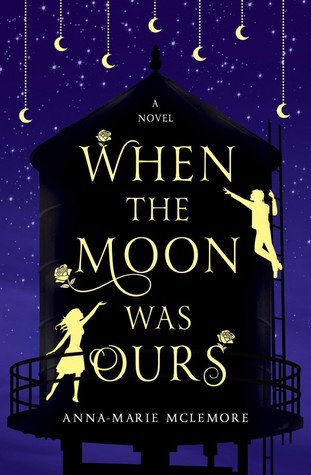 When the Moon Was Ours
by Anna-Marie McLemore
Published by
Thomas Dunne
Expected Publication: October 4th 2016
Genres:
Young Adult, Fantasy, LGBT
Pages:
288
Format:
ARC
Source:
requested via Raincoast Books
Summary from Goodreads:
When the Moon Was Ours follows two characters through a story that has multicultural elements and magical realism, but also has central LGBT themes—a transgender boy, the best friend he's falling in love with, and both of them deciding how they want to define themselves.

To everyone who knows them, best friends Miel and Sam are as strange as they are inseparable. Roses grow out of Miel's wrist, and rumors say that she spilled out of a water tower when she was five. Sam is known for the moons he paints and hangs in the trees, and for how little anyone knows about his life before he and his mother moved to town.

But as odd as everyone considers Miel and Sam, even they stay away from the Bonner girls, four beautiful sisters rumored to be witches. Now they want the roses that grow from Miel's skin, convinced that their scent can make anyone fall in love. And they're willing to use every secret Miel has fought to protect to make sure she gives them up.
Review:
Fantasy, romance, lgbt, and more! A novel that will move you and break you at the same time.
When the Moon Was Ours is such a beautifully woven story. I feel like if I try to explain the story or the premise in any way I will be spoiling the whole thing. I can tell you that this is such a mystical, lyrical, and intensely interesting story and plot.
Even though this novel spreads into many genres, it's main focus/message has to be acceptance. Not only from others but also from yourself. It is a part of who you are, your identity, your life.
The only thing that sort of disliked had to be the faltering climax. However, that was the only negative thing that I can say about this magical novel. The relationship between Miel, a girl with magical abilities, and Sam, a boy from Pakistan, was so captivating and personally moving. Their love for each other was so pure, true- that love that comes from knowing someone so fully - and relatable.
Overall, this was a moving novel I recommend you add to your TBR.
Rating:
★
★
★
★
About The Author:
Anna-Marie McLemore was born in the foothills of the San Gabriel Mountains, raised in the same town as the world's largest wisteria vine, and taught by her family to hear la llorona in the Santa Ana winds. Her debut novel THE WEIGHT OF FEATHERS was a Junior Library Guild Selection, a YALSA Best Fiction for Young Adults book, and a finalist for the William C. Morris Debut Award. Her second novel, WHEN THE MOON WAS OURS, will be released on October 4, 2016, and WILD BEAUTY is forthcoming in 2017.