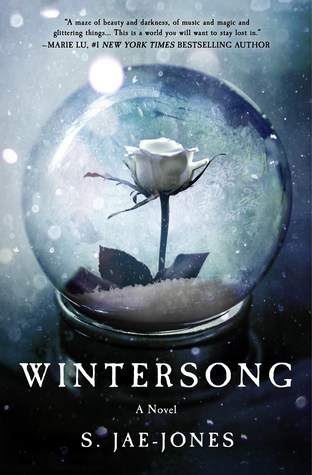 Wintersong by S. Jae-Jones
Published by
Thomas Dunne Books
Expected Publication Date: by
February 7th, 2017
Genres:
Young Adult, Fantasy, Retelling, Romance
Pages:
448
Format:
eARC
Source:
Netgalley
Summary from Goodreads:
Beware the goblin men and the wares they sell.

All her life, nineteen-year-old Liesl has heard tales of the beautiful, mysterious Goblin King. He is the Lord of Mischief, the Ruler Underground, and the muse around which her music is composed. Yet, as Liesl helps shoulder the burden of running her family's inn, her dreams of composition and childish fancies about the Goblin King must be set aside in favor of more practical concerns.

But when her sister Käthe is taken by the goblins, Liesl journeys to their realm to rescue her sister and return her to the world above. The Goblin King agrees to let Käthe go—for a price. The life of a maiden must be given to the land, in accordance with the old laws. A life for a life, he says. Without sacrifice, nothing good can grow. Without death, there can be no rebirth. In exchange for her sister's freedom, Liesl offers her hand in marriage to the Goblin King. He accepts.

Down in the Underground, Liesl discovers that the Goblin King still inspires her—musically, physically, emotionally. Yet even as her talent blossoms, Liesl's life is slowly fading away, the price she paid for becoming the Goblin King's bride. As the two of them grow closer, they must learn just what it is they are each willing to sacrifice: her life, her music, or the end of the world.
Review:
Dark. Sexy. Beautiful. Painful.
Liesl, once the little girl that played with a little boy in the woods, has grown and changed since her times in the woods. She continued on with her life, forgetting the boy and instead focusing on her family and the beloved music she composed in the dark wishing for more than she could ever have. But where Liesl moved on from her times in the woods, the boy did not. He still remembered and he still yearned.
When Liesl's sister, Käthe is taken Underground where the goblins live, she has to find a way to rescue her sister. As new struggles and challenges occur, will she must find her way before the Underground swallows her up whole.
"This was the Goblin King. The abductor of maidens, the punisher of misdeeds, the Lord of Mischief and the Underground."
What initially drew me towards this novel had to have been the fact that it is a retelling of
Labyrinth
, a film that moved many, including myself. I was also interested in how the author, S. Jae-Jones, would execute it.
The pace was quite slow at times and the second half of the novel felt as if the novel was being dragged on. But the tone and writing made up for the slow pace. I was so conflicted on my rating for this book since I absolutely loved the first half of the novel but felt bored with the second half.
Some people may or may not like Liesl but to me she seemed realistic in many ways. She may seem jealous and at times envious of her siblings but no matter she will always do anything to help them live a happy life. She has stepped into the role of caretaker for her siblings, which leaves her feeling bitter.
To be completely honest with you all, I think the bitterness and jealously is what truly makes this character come to life. Many people, having grown up in the shadow of their sibling(s), may understand this character's emotions. Even though she may seem "childish" to some, I believe that she is acting the way any person in her predicament may act. No matter how Liesl may feel, her love and care for her siblings will always triumph her own needs and wants.
The Goblin King on the other hand is quite a complex character. I don't love him but I don't necessarily hate him either, I mostly just feel bad for him. I feel like this is Heathcliff all over again.
Sigh
. Does a person through extreme and seemingly never ending loneliness and heavy burdens deserve to feel loved and free, even if it means causing another person misery? Does that exemplify their hurtful and at times cruel ways? It doesn't but you still feel a sense of empathy towards these two characters [The Goblin King and Heathcliff] because of all they have been through and all they have lost. The lines between light and dark begin to blur and live a greyish hue.
"The kiss is sweeter than sin and fiercer than temptation. I am not gentle, I am not kind; I am rough and wild and savage."
The romance between The Goblin King and Liesl had such great potential but, unfortunately due to the issues they were dealing with, was never fully explored. The romance may be a part of the story but it doesn't overwhelm it. It's obvious that they both want, desire, and crave each other desperately.
There are a few descriptive scenes that bend slightly beyond YA but works quite well with the overall story.
The
ending
was a bit underwhelming but nonetheless bittersweet.
In the end, I did enjoy this dark and intriguing fairytale.
If you love dark fairytales that are wonderfully twisted then I highly recommend you add
Wintersong
onto your TBR.
Sidenote: I also ended up receiving a physical copy of Wintersong when I attended TeensRead Winter + Spring 2017 event.
Rating:
★
★
★
★
S. Jae-Jones, called JJ, is an artist, an adrenaline junkie, and the author of
Wintersong
, forthcoming from Thomas Dunne in February 2017.
Born and raised in sunny Los Angeles, she lived in New York City for ten years before relocating down to Dixie, where she is comfortably growing fat on grits and barbecue. When not writing, she can be found rock-climbing, skydiving, taking photographs, drawing pictures, and dragging her dog on ridiculously long hikes.