Happy New Years Everyone!
I hope you are all having a good time and enjoying some awesome company.
Every year so many amazing and talented authors and publishers release some touching, inspirational, daring, unique, and eye-capturing works that catch our attention and move us beyond words. Sometimes certain novels do not hold as much power like others but are nonetheless unique.
My top favourite books of 2016 are (in exact order):
#1
A Court of Mist and Fury by Sarah J. Maas
Published by
Bloomsbury USA Children's on May 3rd, 2016
Genres:
Fantasy, Romance, Young Adult, Retelling
Pages:
624
My Rating:
Summary from Goodreads:
Feyre survived Amarantha's clutches to return to the Spring Court—but at a steep cost. Though she now has the powers of the High Fae, her heart remains human, and it can't forget the terrible deeds she performed to save Tamlin's people.

Nor has Feyre forgotten her bargain with Rhysand, High Lord of the feared Night Court. As Feyre navigates its dark web of politics, passion, and dazzling power, a greater evil looms—and she might be key to stopping it. But only if she can harness her harrowing gifts, heal her fractured soul, and decide how she wishes to shape her future—and the future of a world torn apart.
#2
It Ends With Us by Colleen Hoover
Published by
Atria Books on August 2nd, 2016
Genres:
New Adult, Romance, Contemporary, Fiction
Pages:
376
My Rating:
Summary from Goodreads:
SOMETIMES THE ONE WHO LOVES YOU IS THE ONE WHO HURTS YOU THE MOST



Lily hasn't always had it easy, but that's never stopped her from working hard for the life she wants. She's come a long way from the small town in Maine where she grew up - she graduated from college, moved to Boston, and started her own business. So when she feels a spark with a gorgeous neurosurgeon named Ryle Kincaid, everything in Lily's life suddenly seems almost too good to be true.





Ryle is assertive, stubborn, and maybe even a little arrogant. He's also sensitive, brilliant, and has a total soft spot for Lily, but Ryle's complete aversion to relationships is disturbing.





As questions about her new relationship overwhelm her, so do thoughts of Atlas Corrigan - her first love and a link to the past she left behind. He was her kindred spirit, her protector. When Atlas suddenly reappears, everything Lily has built with Ryle is threatened.





With this bold and deeply personal novel, Colleen Hoover delivers a heart-wrenching story that breaks exciting new ground for her as a writer. It Ends With Us is an unforgettable tale of love that comes at the ultimate price.





This book contains graphic scenes and very sensitive subject matter.
#3
Disruption by Jessica Shrivington
Published by
HarperCollins on October 4th, 2016
Genres:
Young Adult, Fantasy, Historical Fiction, Romance
Pages:
416
My Rating:
Summary from Goodreads:
What if a microchip could identify your perfect match? What if it could be used against you and the ones you love?

Eight years ago, Mercer Corporation's M-Bands became mandatory. An evolution of the smartphone, the bracelets promised an easier life. Instead, they have come to control it.

Two years ago, Maggie Stevens watched helplessly as one of the people she loved most was taken from her, shattering her world as she knew it.

Now, Maggie is ready. And Quentin Mercer—heir to the M-Corp empire—has become key to Maggie's plan. But as the pieces of her dangerous design fall into place, could Quentin's involvement destroy everything she's fought for?

In a world full of broken promises, the ones Maggie must keep could be the most heartbreaking.
#4
The Crown's Game by Evelyn Skye
Published by
Balzer + Bray on May 17th, 2016
Genres:
Young Adult, Fantasy, Historical Fiction, Romance
Pages:
399
My Rating:
Summary from Goodreads:
Vika Andreyeva can summon the snow and turn ash into gold. Nikolai Karimov can see through walls and conjure bridges out of thin air. They are enchanters—the only two in Russia—and with the Ottoman Empire and the Kazakhs threatening, the tsar needs a powerful enchanter by his side.

And so he initiates the Crown's Game, an ancient duel of magical skill—the greatest test an enchanter will ever know. The victor becomes the Imperial Enchanter and the tsar's most respected adviser. The defeated is sentenced to death.

Raised on tiny Ovchinin Island her whole life, Vika is eager for the chance to show off her talent in the grand capital of Saint Petersburg. But can she kill another enchanter—even when his magic calls to her like nothing else ever has?

For Nikolai, an orphan, the Crown's Game is the chance of a lifetime. But his deadly opponent is a force to be reckoned with—beautiful, whip-smart, imaginative—and he can't stop thinking about her.

And when Pasha, Nikolai's best friend and heir to the throne, also starts to fall for the mysterious enchantress, Nikolai must defeat the girl they both love…or be killed himself.

As long-buried secrets emerge, threatening the future of the empire, it becomes dangerously clear—the Crown's Game is not one to lose.
#5
Paper Princess by Erin Watt (Elle Kennedy and Jen Frederick)
Published by
Timeout LLC on April 4th, 2016
Genres:
Romance, New Adult, Contemporary, Young Adult
Pages:
370
My Rating:

Summary from Goodreads:
From strip clubs and truck stops to southern coast mansions and prep schools, one girl tries to stay true to herself.





These Royals will ruin you…





Ella Harper is a survivor—a pragmatic optimist. She's spent her whole life moving from town to town with her flighty mother, struggling to make ends meet and believing that someday she'll climb out of the gutter. After her mother's death, Ella is truly alone.





Until Callum Royal appears, plucking Ella out of poverty and tossing her into his posh mansion among his five sons who all hate her. Each Royal boy is more magnetic than the last, but none as captivating as Reed Royal, the boy who is determined to send her back to the slums she came from.





Reed doesn't want her. He says she doesn't belong with the Royals.





He might be right.





Wealth. Excess. Deception. It's like nothing Ella has ever experienced, and if she's going to survive her time in the Royal palace, she'll need to learn to issue her own Royal decrees.
#6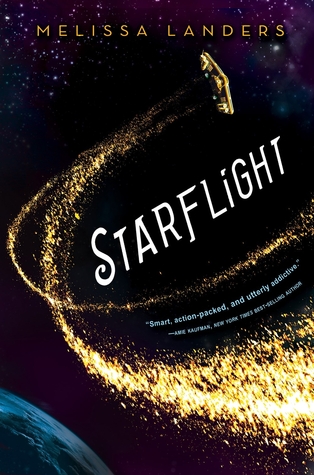 Starflight by Melissa Landers
Published by
Disney-Hyperion on February 2nd, 2016
Genres:
Young Adult, Science Fiction, Romance
Pages:
369
My Rating:
Summary from Goodreads:
Life in the outer realm is a lawless, dirty, hard existence, and Solara Brooks is hungry for it. Just out of the orphanage, she needs a fresh start in a place where nobody cares about the engine grease beneath her fingernails or the felony tattoos across her knuckles. She's so desperate to reach the realm that she's willing to indenture herself to Doran Spaulding, the rich and popular quarterback who made her life miserable all through high school, in exchange for passage aboard the spaceliner Zenith.





When a twist of fate lands them instead on the Banshee, a vessel of dubious repute, Doran learns he's been framed on Earth for conspiracy. As he pursues a set of mysterious coordinates rumored to hold the key to clearing his name, he and Solara must get past their enmity to work together and evade those out for their arrest. Life on the Banshee may be tumultuous, but as Solara and Doran are forced to question everything they once believed about their world—and each other—the ship becomes home, and the eccentric crew family. But what Solara and Doran discover on the mysterious Planet X has the power to not only alter their lives, but the existence of everyone in the universe...
#7
Forever Rome by Brittney Sahin
Published by
EmKo Media, LLC on September 20th, 2016
Genres:
Romance
Pages:
327
My Rating:

Summary from Goodreads:
A football fanatic sports columnist. A sexy Italian soccer player. When in Rome . . .

Maggie Lane, a sports columnist and diehard football fan, is not exactly enthused when her editor-in-chief sends her to Rome, Italy, to write a feature story on Italian soccer star Marco Valenti. The last thing she wants to do is spend three weeks covering soccer right before the American football season begins. But Maggie's job becomes a lot more appealing after meeting a sexy Italian man on her first night there.

One hot kiss and she is done for . . . but once Maggie discovers her mysterious Italian is Marco Valenti, she's not sure if she'll be able to write her story objectively, or if she'll even have to. Marco stuns the world when he announces his retirement, and without an explanation as to why, rumors fly and the tension mounts. Despite Maggie's protests, she is forced to stay, but with each passing day, she becomes enchanted with the beautiful city, as well as finds herself breaking her cardinal rule—never fall for a player.

As Maggie learns the truth about Marco, she has to make a decision: protect him or keep her job. Will Marco be able to trust her with his secrets? Can she trust him with her heart?
#8
And I Darken by Kiersten White
Published by
Delacorte Press on June 28th, 2016
Genres:
Fantasy, Young Adult, Historical Fiction, Retelling, Romance, LGBT
Pages:
498
My Rating:

Summary from Goodreads:
NO ONE EXPECTS A PRINCESS TO BE BRUTAL. And Lada Dragwlya likes it that way. Ever since she and her gentle younger brother, Radu, were wrenched from their homeland of Wallachia and abandoned by their father to be raised in the Ottoman courts, Lada has known that being ruthless is the key to survival. She and Radu are doomed to act as pawns in a vicious game, an unseen sword hovering over their every move. For the lineage that makes them special also makes them targets.





Lada despises the Ottomans and bides her time, planning her vengeance for the day when she can return to Wallachia and claim her birthright. Radu longs only for a place where he feels safe. And when they meet Mehmed, the defiant and lonely son of the sultan, who's expected to rule a nation, Radu feels that he's made a true friend—and Lada wonders if she's finally found someone worthy of her passion.





But Mehmed is heir to the very empire that Lada has sworn to fight against—and that Radu now considers home. Together, Lada, Radu, and Mehmed form a toxic triangle that strains the bonds of love and loyalty to the breaking point.





From

New York Times

bestselling author Kiersten White comes the first book in a dark, sweeping new series in which heads will roll, bodies will be impaled . . . and hearts will be broken.
#9
Victoria by Daisy Goodwin
Published by
St. Martin's Press on November 22nd, 2016
Genres:
Adult, Historical Fiction, Chick Lit, Romance
Pages:
404
My Rating:

Summary from Goodreads:
"They think I am still a little girl who is not capable of being a Queen."

Lord Melbourne turned to look at Victoria. "They are mistaken. I have not known you long, but I observe in you a natural dignity that cannot be learnt. To me, ma'am, you are every inch a Queen."



In 1837, less than a month after her eighteenth birthday, Alexandrina Victoria – sheltered, small in stature, and

female

– became Queen of Great Britain and Ireland. Many thought it was preposterous: Alexandrina — Drina to her family — had always been tightly controlled by her mother and her household, and was surely too unprepossessing to hold the throne. Yet from the moment William IV died, the young Queen startled everyone: abandoning her hated first name in favor of Victoria; insisting, for the first time in her life, on sleeping in a room apart from her mother; resolute about meeting with her ministers alone.





One of those ministers, Lord Melbourne, became Victoria's private secretary. Perhaps he might have become more than that, except everyone argued she was destined to marry her cousin, Prince Albert of Saxe-Coburg and Gotha. But Victoria had met Albert as a child and found him stiff and critical: surely the last man she would want for a husband….





Drawing on Victoria's diaries as well as her own brilliant gifts for history and drama, Daisy Goodwin, author of the bestselling novels

The American Heiress

and

The Fortune Hunter

as well as creator and writer of the new PBS/Masterpiece drama

Victoria

, brings the young queen even more richly to life in this magnificent novel.
#10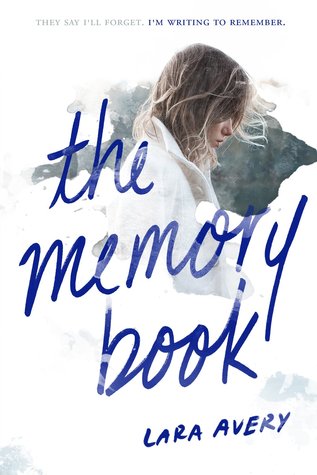 The Memory Book by Lara Avery
Published by
Poppy/Hachette Book Group on July 5th, 2016
Genres:
Young Adult, Contemporary, Romance, Fiction
Pages:
357
My Rating:

Summary from Goodreads:
They tell me that my memory will never be the same, that I'll start forgetting things. At first just a little, and then a lot. So I'm writing to remember.

Sammie was always a girl with a plan: graduate at the top of her class and get out of her small town as soon as humanly possible. Nothing will stand in her way--not even a rare genetic disorder the doctors say will slowly start to steal her memories and then her health. What she needs is a new plan.

So the Memory Book is born: Sammie's notes to her future self, a document of moments great and small. It's where she'll record every perfect detail of her first date with longtime crush, Stuart--a brilliant young writer who is home for the summer. And where she'll admit how much she's missed her childhood best friend, Cooper, and even take some of the blame for the fight that ended their friendship.

Through a mix of heartfelt journal entries, mementos, and guest posts from friends and family, readers will fall in love with Sammie, a brave and remarkable girl who learns to live and love life fully, even though it's not the life she planned.
This is the Top 10 Books of 2016: Published Edition, my top faves of this year.
What do you think? What is your favourite top novel(s)?
Which novel would you have added?
_____________________________
If you want to know which books made it onto the Top 20 Romance Books of 2016: Wattpad Edition, then click the link below.