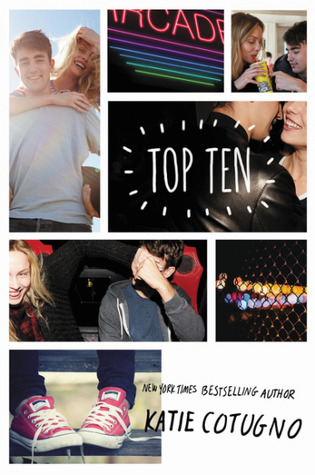 Top Ten
by Katie Cotugno
Published by
Balzer +Bray on October 3, 2017
Genres:
Young Adult, Contemporary, Romance, LGBTQ+
Pages:
320
Format:
Physical ARC
Source:
HarperCollins Canada in exchange for an honest review
Summary from Goodreads:
Ryan McCullough and Gabby Hart are the unlikeliest of friends. Introverted, anxious Gabby would rather do literally anything than go to a party. Ryan is a star hockey player who can get any girl he wants—and does, frequently. But against all odds, they became not only friends, but each other's favorite person. Now, as they face high school graduation, they can't help but take a moment to reminisce and, in their signature tradition, make a top ten list—counting down the top ten moments of their friendship:





10. Where to begin? Maybe the night we met.




9. Then there was our awkward phase.




8. When you were in love with me but never told me…




7. Those five months we stopped talking were the hardest of my life.




6. Through terrible fights…




5. And emotional makeups.




4. You were there for me when I got my heart broken.




3. …but at times, you were also the one breaking it.




2. Above all, you helped me make sense of the world.




1. Now, as we head off to college—how am I possibly going to live without you?
Review:
Top Ten
centres around the top ten moments throughout the unlikely friendship between Gabby and Ryan. Though these two run in very different circles, with completely different personalities, they are best friends.
Having heard so many great things about this book, I was so excited to read it. It sounded like a cute and fun book to read. I did end up enjoying the book but I also believe that personally the way the book was formatted was confusing.
The beginning of the book seemed very promising and definitely gave off fun and cozy vibes. But then, and this is where everything started to get confusing, the top ten moments were jumping from one time to another. There was no real time line which made it difficult for me to get into. As well as the fact that we have to go between Ryan and Gabby's perspectives at different periods of their lives.
Readers are completely dropped into this story and the characters friendship without building up towards it. I felt like there was so much that was unclear regarding Gabby and Ryan's friendship.
The friendship between these two characters was so interesting to read but it didn't feel like we got to fully experience it because of the time line jumps. In one chapter they were close and in the next chapter not even knowing one another. I found myself unable to really care about the the characters at all.
Top Ten truly had the potential to be a cute read but it just didn't pan out that way, it just fell flat instead. It have been a great book that is fluffy and fun but also discusses serious matters like mental illness, like how social anxiety affects the characters suffering from it. Instead it felt like it was barely went in depth about it.
In the end, I just this was an alright book to read. Not the best but definitely far from the worst.
Rating:
★
★
★
Katie Cotugno is the New York Times Bestselling author of 99 DAYS and HOW TO LOVE, both available from Balzer + Bray/HarperCollins, as well as FIREWORKS, forthcoming in 2017. She studied Writing, Literature and Publishing at Emerson College and received her MFA in Fiction at Lesley University. Katie is a Pushcart Prize nominee whose work has appeared in The Iowa Review, The Mississippi Review, and Argestes, among others. The great loves of her life include child's pose, her little sister, and mozzarella and honey sandwiches. She lives in Boston with her husband, Tom.