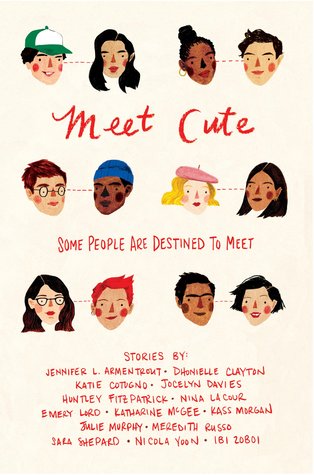 Meet Cute: Some People are Destined to Meet
by
Jennifer L. Armentrout

,

Sona Charaipotra

,

Dhonielle Clayton

,

Katie Cotugno

,

Jocelyn Davies

,

Nina LaCour

,

Emery Lord

,

Katharine McGee

,

Kass Morgan

,
Julie Murphy
,
Meredith Russo
,
Sara Shepard
,
Nicola Yoon
,
Ibi Zoboi
Published by
HMH Books for Young Readers on
January 2nd 2018
Genres:
Young Adult, Contemporary, Romance, Short Stories, Holiday
Pages:
224
Format:
Physical ARC
Source:
Kindly provided by Raincoast Books in exchange for an honest review.
Summary from Goodreads:
Whether or not you believe in fate, or luck, or love at first sight, every romance has to start somewhere. MEET CUTE is an anthology of original short stories featuring tales of "how they first met" from some of today's most popular YA authors.

Readers will experience Nina LaCour's beautifully written piece about two Bay Area girls meeting via a cranky customer service Tweet, Sara Shepard's glossy tale about a magazine intern and a young rock star, Nicola Yoon's imaginative take on break-ups and make-ups, Katie Cotugno's story of two teens hiding out from the police at a house party, and Huntley Fitzpatrick's charming love story that begins over iced teas at a diner. There's futuristic flirting from Kass Morgan and Katharine McGee, a riveting transgender heroine from Meredith Russo, a subway missed connection moment from Jocelyn Davies, and a girl determined to get out of her small town from Ibi Zoboi. Jennifer Armentrout writes a sweet story about finding love from a missing library book, Emery Lord has a heartwarming and funny tale of two girls stuck in an airport, Dhonielle Clayton takes a thoughtful, speculate approach to pre-destined love, and Julie Murphy dreams up a fun twist on reality dating show contestants.

This incredibly talented group of authors brings us a collection of stories that are at turns romantic and witty, epic and everyday, heartbreaking and real.
---
Review:
The complete anthology of short stories about "how they met" was so adorably cute! MEET CUTE was such a fluffy and fun anthology to read.
SEIGE ETIQUETTE by Katie Cotugno 2/5
I don't know why I didn't necessarily like this story as much as the others. Maybe it was because I recently reviewed Cotugno's latest book, Top Ten. It fell like I was going back and forth way too much. Besides one of my major negatives for ANY book has to be adultery/cheating of any kind.
PRINT SHOP by Nina LaCour 4.5/5
Such a cute and fun filled story! I loved the aspect where Evelyn (a.k.a. Evie) wanted to work somewhere - specifically the Print Shop - where it didn't work digitally, they didn't have a website. I can definitely relate. In today's society, technology is everywhere. I would love the opportunity to work somewhere where it doesn't, much like the store in this story, work digitally. Overall, this was an absolute delight to read.
HOURGLASS by Ibi Zobol 3.5/5
A diverse story filled with romance as a young girl struggles to get out of her small town and attend a university that understands her and where she can be herself. Of course, drama soon occurs and Cherish soon finds herself betrayed.
CLICK by Katherine McGee 5/5
This was such a moving story. It didn't solely focus on the romance, it also showed in a way life. It shows how many people want and wish they can control their lives, paths, and how everything ultimately turns out in the end. However, we can not control everything in life, we can only control ourselves. A story about love, life, acceptance, moving on, and learning to live every day to the fullest.
THE INTERN by Sara Shepard 4/5
Focusing more on family than on the romance. It was a beautiful story entering around a young girl who, in the face of loss, works at her father's company. I can't say too much without spoiling it so all I will say is that it is such a profoundly moving (and emotional) story to read.
SOMEWHERE THAT'S GREEN by Meredith Russo 2.5/5
I am truly at a loss for words. This story is definitely one of my least favourite from this anthology. I loved the fact that the main character of this story was transgender. We sadly don't get to see a lot of that this often. However, the story felt confusing (to say the least) and was extremely difficult to stay interested in reading.
THE WAY WE LOVE HERE by Dhonielle Clayton 4.5/5
This was such an interesting story to read. I almost immediately adored the plot, characters, and writing style. Definitely one of my favourite stories in this anthology.
OOMPH by Emery Lord 4.5/5
Oh my gosh, this was such a cute story! Lord's writing style was a breath of fresh air. She finds a way to immerse you in the story and make you want more all in a single interaction between two marvellously written characters. I will definitely be checking out some of her other works.
THE DICTIONARY OF YOU AND ME by Jennifer L. Armentrout 5/5
This was by far my favourite story featured in this anthology. The plot, the characters, and just the overall setting made it an absolute blast to read. I wish the story was a bit longer or if even (fingers-crossed) Armentrout writes a spin off regarding these characters - like it's their children telling the story now. I don't know, I just want to read more about these adorably cute characters.
THE UNLIKELY LIKELIHOOD OF FALLING IN LOVE by Jocelyn Davies 4/5
This was such a unique story to read. I adored the idea behind it, a statistics project based on the likelyhood of seeing the same person, and I also liked the characters. It was an overall great short story.
259 MILLION MILES by Kass Morgan 4/5
Another fantastically written futuristic story. This meet-cute story definitely captured my attention. With a unique and intriguing plot to the main character's point of view, this story definitely succeeded in making me want to know more about these characters and what happens next. Especially since that ending was so different compared to the way the other stories ended.
SOMETHING REAL by Julie Murphy 4/5
A fun, cute, short story that really hit the mark. It was well written and captivating to read. Having never previously read any of Murphy's work before, I can definitely say that this has peaked my interest and I will be picking up her previous work sometime in the near future.
SAY EVERYTHING by Huntley Fitzpatrick 2/5
It was a cute story but it just wasn't for me. It left me at times feeling bored and uninterested. I don't know if it was the POV in this story or the writing style but something just didn't work for me.
THE DEPARTMENT OF DEAD LOVE by Nicola Yoon 3.5/5
This was such an interesting story. I mean the idea itself was so creative, a bunch of people devoted to helping others experiencing heartbreak. However, there were times where I felt a bit bored with the story.
In the end, this was probably the best anthology I have ever read. It truly deserves to be read.
Rating:
★
★
★
★
Jennifer L. Armentrout

,

Sona Charaipotra

,

Dhonielle Clayton

,

Katie Cotugno

,

Jocelyn Davies

,

Nina LaCour

,

Emery Lord

,

Katharine McGee

,

Kass Morgan

,
Julie Murphy
,
Meredith Russo
,
Sara Shepard
,
Nicola Yoon
,
Ibi Zoboi.
Excerpt
"Siege Etiquette" by Katie Cotugno
You're getting another beer in the kitchen and watching two badly dressed sophomores try not to be too obvious about the fact that they're staring at you, when the cops show up outside Madison Campbell's house.
"Uh-oh," Jay says when he spies them. You follow his gaze through the living room window where, sure enough, two cruisers are gliding to the curb with their lights flashing, silent as sharks. "Friends are here." Right away he heads down the stairs to the basement, motioning for you to follow without actually waiting to see if you do. Boyfriend or not, you guess you can't really blame him. After all, it's not like you get in trouble anymore.
"Everybody down," Nicole calls from the hallway, flicking the kitchen lights off so you're plunged into darkness, save the glow of the water dispenser on the front of the stainless-steel fridge. Nicole's parents are both law professors an hour away from here at Cornell, and firm believers in the importance of exercising one's constitutional rights: Never, never open up the door to the police unless they have a warrant, you've heard them say over a number of bagel breakfasts at Nicole's kitchen table, same as other parents would remind you to make sure to be home by curfew. "Somebody get the rest of the lights!"
"Are you serious?" a panicky-looking freshman asks as everyone dashes for cover—into bedrooms and under coffee tables, inside the immaculately organized pantry. "You're not going to let them in?"
"Do you want to go to jail?" Nicole snaps, which seems a little dramatic. "Turn off the music. They'll be gone in a minute."
You're not entirely sure about that, actually, but before you can register your concerns, the bell is ringing; the police are knocking hard and insistent on the front door, glowing flashlights visible through the frosted glass. The combination of noise and sound sets something off in you, a cold animal panic. Suddenly it feels very important to hide. You scurry up the short flight of stairs off the foyer and through the closest door, shutting it firmly behind you before turning around and realizing that a) it's the bathroom, and b) Wolf Goshen is sitting on the edge of the tub in the dark.
"Um," you say. Fuck. "Hi."
"Sorry," Wolf says, standing up and wiping his hands on his jeans. "I can get out of here, if you have to—I mean, everybody was just yelling to hide and stuff. I kind of panicked."
"No, I don't need to—" You exhale, heart pounding with a savage ferocity wholly disproportionate to the seriousness of this situation. That happens to you sometimes, now. The cops are still ringing the doorbell. "I mean, that's why I'm in here, too."
"Oh." Wolf nods, shoving his hands into his pockets. "Okay."
You look at each other for a moment. You breathe. Wolf has been in your class since kindergarten, but you've never actually talked to him before. He only ever comes for half the year because of some arcane agricultural law that lets him be homeschooled for the fall semester so he can help his parents at their farm, thirty miles outside Ithaca, one of the last working family-owned operations in the entire state of New York. Every autumn you forget about him and every January he shows up at school again, blinking and dazed, like he's spent the last six months wandering dumbly through a cornfield. You've never seen him at a party before in your life.
"I came with my cousin," he explains, like he can see you wondering, as if he thinks you're going to ask to see his pass. You think he might be afraid of you. You'd probably be afraid of you, if you were Wolf. "You know Jared? He dates Madison now. So I came with him."
You nod, not particularly caring. God, this whole night sucks. You're about to make an excuse and get the hell out of here, but before you can come up with something plausible the beam of a flashlight shines directly through the bathroom window, and like an instinct you're grabbing Wolf's arm and jerking roughly, pulling him back into the shadows beside the tub.
"Sorry," you say once the light has moved away again. "Close call."
"It's okay." Wolf sits back down on the edge of the bathtub.
When you were little kids he was notorious for falling asleep at his desk every day during free read. His fingernails were always too long. You remember not wanting to get stuck next to him in line or at lunchtime or in the Starlab, a traveling planetarium that came to school every year, all of you crawling into a big inflatable tent in the middle of the gym to look up at the constellations. "Don't be giving that boy a hard time, Hailey," your mom scolded when you came home and complained about it. You were already popular back in elementary school, and she was worried it was going to turn you mean.
Copyright © 2018 by Alloy Entertainment, LLC