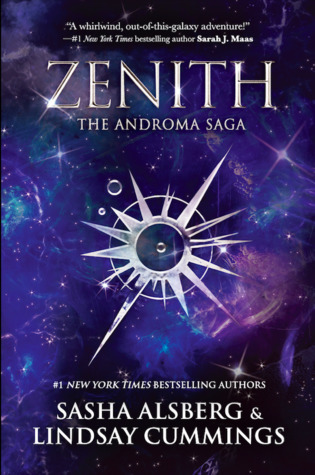 Zenith
by Sasha Alsberg and Lindsay Cummings
Published by
Harlequin Teen on January 16th, 2018
Genres:
Young Adult, Science Fiction, Fantasy
Pages:
512
Format:
ARC
Source:
Kindly provided by publisher in exchange for an honest review
Summary from Goodreads:
Most know Androma Racella as the Bloody Baroness, a powerful mercenary whose reign of terror stretches across the Mirabel Galaxy. To those aboard her glass starship,

Marauder

, however, she's just Andi, their friend and fearless leader.

But when a routine mission goes awry, the

Marauder

's all-girl crew is tested as they find themselves in a treacherous situation and at the mercy of a sadistic bounty hunter from Andi's past.

Meanwhile, across the galaxy, a ruthless ruler waits in the shadows of the planet Xen Ptera, biding her time to exact revenge for the destruction of her people. The pieces of her deadly plan are about to fall into place, unleashing a plot that will tear Mirabel in two.

Andi and her crew embark on a dangerous, soul-testing journey that could restore order to their shipor just as easily start a war that will devour worlds. As the

Marauder

hurtles toward the unknown, and Mirabel hangs in the balance, the only certainty is that in a galaxy run on lies and illusion, no one can be trusted.
---
Review:
It was extremely difficult to finish this book but here I am writing this review feeling almost at a complete loss on how to even begin. I guess I'll start off by saying that this wasn't necessarily a bad book to read, but it did lack some of the depth I needed in order to really get into a book.
Zenith centres around a young woman named Androma, otherwise known as Andi and/or the Bloody Baroness, and her crew of girls aboard the Marauder spaceship. Pretty early on in the story, she is captured by someone from her past who gives her the option to go to prison or help rescue the prince.
It was a generally okay book to read. It didn't stand out compared to other sci-fi, fantasy, books but it wasn't dull in comparison either. It was like any other typical YA book in this particular sub-genre. It, at times, desperately tries to stand out and feel more but in the end it just fell in comparison to other well known books.
Most of it felt rather unoriginal, the work was filled with massive amounts of information (at times it felt like too much to even handle). From characters with blue scaly skin, to random planet names, to escape pods that don't function when necessary (isn't that the function of an escape pod?), this story never lacks telling you the most useless information or the most bizarre nonsense. It feels as if Alsberg and Cummings are trying way too hard to write a typical sci-fi fantasy adventure that feels both whimsical and adventurous but still find a way to somehow make it original. It tries to be everything it really isn't, it's like trying to fit a square peg in a round hole.
Everything is rather underwhelming. The writing and dialogue was weird.
The romance, like the rest of this story, was pretty bland. I couldn't stand Andi or Dex. Andi was a contradiction wrapped in a riddle, waiting to be solved. She is supposed to be this cold-blooded killer that enjoys brutally killing people but then we see Alsberg and Cummings contradict that when she begins to feel a sense of guilt over the people she supposedly murdered. All of the characters were immature and annoying. None of them were even interesting or at least intriguing in the slightest.
Impenetrable
shield on the Marauder spacecraft but that doesn't stop one of the best crew from being captured and taken over so easily in,
seriously, like a chapter. I still don't understand the purpose of naming off all of these random things (like the shield) if it's not going to come in handy. Another thing I didn't understand was why (and how) this spacecraft only had a crew of
four
people. I mean it's common sense to know that a spacecraft, especially with the way the Marauder was described, would definitely need way more than four people in the entirety of its crew.
The ending was so abrupt that, for a few minutes, I flipped back and forth believing that either I accidentally skipped a few pages, possibly didn't see the rest of the ending (grabbing two pages instead of one), or maybe there were pages missing.
I have read webcomics posted online that are better than what was written and executed here in this story (i.e. Helios:Femina and Empyrea).
Nonetheless, i
f you like unoriginal books with a not so thought-out world then this would be the perfect book for you.
Rating:
★
★
★
★
Sasha Alsberg is the #1 New York Times Bestselling coauthor of Zenith, the first book in The Androma Saga.
When Sasha is not writing or obsessing over Scotland she is making YouTube videos on her channel,
Abookutopia
, and studying history at university. She lives in Massachusetts with her two dogs.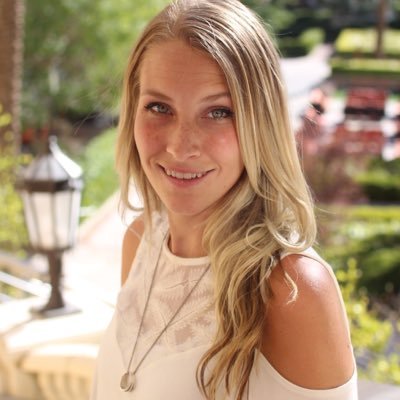 Lindsay Cummings is the #1 NYT Bestselling co-author of
Zenith: The Androma Saga
. She is also the 24-year-old author of The Murder Complex duopoly and The Balance Keepers trilogy for HarperCollins. She lives in North Texas, where she writes full time. Lindsay is represented by Pete Knapp at Park Literary & Media. Find out more about Lindsay and her books, and get writing/publishing advice on her website.
Facebook
|
Twitter
|
Instagram
|
Youtube