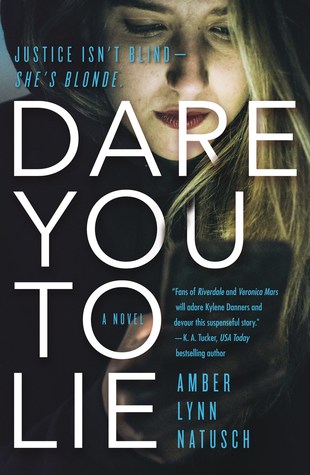 Dare You to Lie
by Amber Lynn Natusch
Published by
Tor Teen on
September 4th, 2018
Genres:
Young Adult, Contemporary, Mystery, Thriller
Series:
Hometown Antihero - Book 1
Pages:
351
Format:
ARC
Source:
Provided by Raincoast Books in exchange for an honest review
Summary from Goodreads:
When her FBI agent father is framed for murder, Kylene is forced to move in with her grandfather, back to the small town that turned its back on her, and the boy who betrayed her.

All Ky cares about is clearing her father's name, but someone won't let her forget the photo scandal that drove her away two years ago. As the threats gain momentum, Ky finds an unlikely ally in the rookie FBI agent sent to keep an eye on her.

Determined to expose the town's hidden skeletons, Ky unwittingly thrusts herself into a much bigger plot. They thought she'd forgive and forget. They're about to learn they messed with the wrong girl.
---
Review:
DNF @34%
The first chapter was promising, it was well-written and had a plot that was not only set up well but seemed capable of holding a reader's attention. However, my opinion of this book quickly changed as I continued to read (and later skim) it.
The MC, Kylene, is a juvenile at best, aggressive at worst. She has negative interactions with almost every person she comes across, including her friends, as well as trade insults with many more. If her behaviour and attitude don't annoy you enough then her hero complex/syndrome will be sure to do it. For example, during lunch hour Kylene happens to hear someone crying, comes across a car rocking, approaches it and finds a guy trapping a girl inside it. A fight then ensues between said guy and Kylene, who ends up rescuing the girl trapped in the car.
I do not take domestic violence lightly, whether it be any type of violence (ex. physical, sexual, emotional, etc.). These are serious and dangerous situations that should not be taken lightly or made to make others laugh. With that being said, I do not believe that Natusch put this scene in to make a joke out of any of these situations. However, I felt like the whole situation was made light because of the rather idiotic fight.
With that being said, Kylene does end coming across Amy, the girl she rescued from the abusive boyfriend, again. Due to Kylene's hero complex/syndrome, she believes that she is all-knowing when it comes to abuse. Amy, being an adolescent teen in high school, does not know how to help herself out of this situation, especially in a town that turns against victims and protects abusers.
Another scene was how her and her grandfather talked about the women and girls who go through abuse and stay with abusers. No one knows a person's circumstances, what they may be going through, or how they may feel. I think Natusch could have handled that scene a lot better and at a more respectful, mature, and educational manner. Honestly, I think that whole aspect, domestic violence, was unnecessary in this book and was written in a way that did not do justice to those who are or have gone through it. Any seriousness of this heavy situation was ultimately rushed around and pushed aside as the bigger aspect of the plot took centre stage.
Almost every chapter depicts Kylene like a bully/mean girl, insulting those who disagree with her, shows her getting physical with others, or acting obnoxious and aggressive. I could not agree with her decisions, behaviour, attitude, and general lack of maturity.
Rating:
★
About The Author:
AMBER LYNN NATUSCH is the author of the bestselling Caged series for adults. She was born and raised in Winnipeg, and is still deeply attached to her Canadian roots. She loves to dance and practice Muay Thai―but spends most of her time running a chiropractic practice with her husband, raising two young children, and attempting to write when she can lock herself in the bathroom for ten minutes of peace. Dare You to Lie is her debut YA novel with Tor Teen.